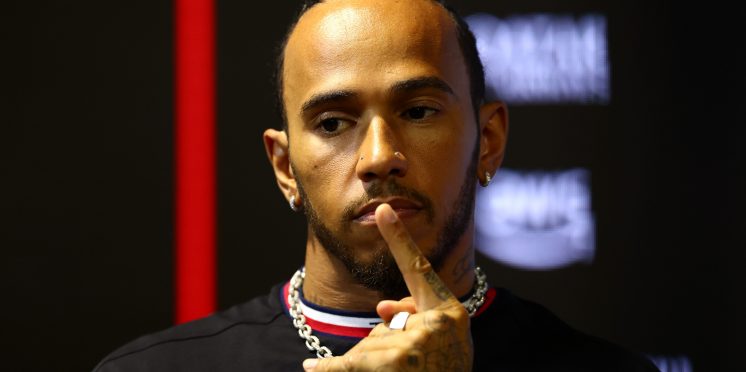 Wolff would hold 'no grudge' if Hamilton considered leaving Mercedes
Toto Wolff says Lewis Hamilton would be within his rights to consider leaving Mercedes if it cannot give him a car capable of fighting for a record eighth Formula 1 title.
Hamilton is set for a second straight year without being able to mount a championship bid after Mercedes' disappointing start to the season in Bahrain.
The German manufacturer was a long way off the pace at the season opener, with Hamilton finishing over 50 seconds behind Red Bull in fifth and was also beaten by Fernando Alonso's Aston Martin and Carlos Sainz's Ferrari.
Mercedes' lack of performance led Hamilton to claim it is 1.5 seconds slower per lap than Red Bull, with the ongoing struggles leading to speculation he could choose to leave the team when his contract expires at the end of the season.
Mercedes boss Wolff is confident Hamilton will commit his future to the team despite its "difficult spell", but says he would hold "no grudge" against the seven-time world champion if he had a change of heart if it continued to underperform.
"I have no idea what is being said in the silly season, I just know where we are with Lewis and with George – nothing else is relevant," said Wolff, as quoted by RaceFans. "We are talking when we want to do it and how but we just need to change some terms – the dates, basically.
"I don't think that Lewis will leave Mercedes. He's at the stage of a career where we trust each other. We have formed a great bond among each other and we have no reason to doubt each other, even though this is a difficult spell.
"So nice it will be, when we come out of this valley of tears and come back to solid performances.
"As a driver, nevertheless, if he wants to win another championship, he needs to make sure that he has the car. And if we cannot demonstrate that we are able to give him a car in the next couple of years, then he needs to look everywhere.
"I don't think he's doing it at that stage, but I will have no grudge if that happens in a year or two."
Mercedes' slump in form since the beginning of last year has coincided with Hamilton enduring the longest winless streak of his career, dating back to the 2021 Saudi Arabian Grand Prix 25 races ago.
But while the team faces a long road ahead to close the gap to its rivals, Hamilton insists his motivation has not been wained to help turn Mercedes' fortunes around.
"You just redirect your energy," Hamilton said. "It's just different.
"If you're fighting for a world championship, which is what you prepare for at the beginning of the season, you realise that's not the case and then you redirect the energy into building and strengthening the team, supporting everyone in the best way you can.
"You continue to prepare the same for the races, in the sense of your fitness and the mental approach.
"We need the Red Bulls not to finish the race, the Ferraris not to finish the race, and maybe now the Astons not to finish the race, for us to be winning at the moment. But that doesn't mean we can't catch them up.
"None of us at this team have ever kind of shied away from a challenge. We enjoy the challenge. We would much prefer to be at the front, but it isn't the way it is."
---