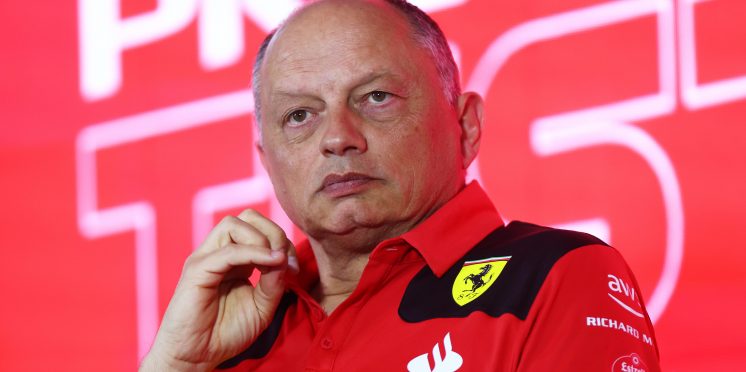 Vasseur insists Ferrari is 'solid' amid speculation over high-profile exits
Ferrari Formula 1 boss Fred Vasseur has responded to rumours suggesting further key personnel could leave, insisting the team is "solid".
Vasseur was appointed as Ferrari's new team principal in January following Mattia Binotto's exit at the end of last year but is already coming under scrutiny in Italy after the team's difficult start to the season.
On top of its on-track struggles, Ferrari is reported to be in a battle to keep hold of high-profile staff, with head of vehicle concept, David Sanchez, the most recent departure.
Racing director Laurent Mekies was linked with a move away from Maranello to take up a role at F1 itself, but it is understood Vasseur held talks over the winter to address the situation.
Amid growing speculation of more imminent departures, Vasseur rejected the claims and stressed Mekies would be "one of the pillars" of Ferrari's future.
"To have people who are unhappy [and who might leave], it's two different things," said Vasseur, as quoted by The Race.
"I think that it's quite normal to be unhappy when you don't get the result that you are expecting. I'm unhappy!
"But the most important thing is to work as a group, to work as a team and to try to get the best out of this and to do improvement.
"Leaving the company is another story.
"I don't know what's happened in the past with Laurent, but I've known Laurent for 25 years or something like this. I trust him.
"We have a very good collaboration together and he will be one of the pillars of the future of the company."
Ferrari's disappointing performance at the season opener in Bahrain, where it was outpaced by Red Bull and suffered a mechanical failure on Charles Leclerc's car, follows suggestions in the Italian media that staff are becoming disillusioned.
While Vasseur expects there to be further departures, he doesn't foresee them to be anyone of significance to the Italian team.
"Honestly, it's the life of the team that we have a turnover each year," he said.
"Now, if you want to speak about key people, I don't think so.
"For sure, we will have people leaving the team and some people joining the team. But it's like this in every single team in F1.
"Now we are a solid group, we are building up a team for the future also, and the link is good.
"I don't think that key people will leave the team."
---