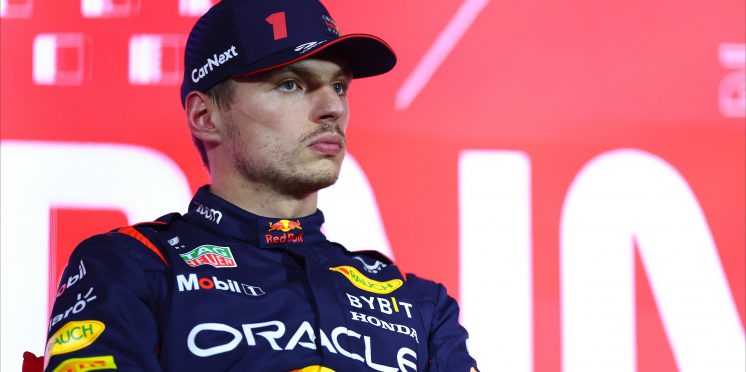 Verstappen 'doesn't see the benefit' of F1 trialing new qualifying format
Max Verstappen has questioned Formula 1's plan to experiment with a tweaked qualifying format this year, saying he "doesn't really see the benefit of it".
F1 will trial a new qualifying format at two races this season, starting with the Emilia Romagna Grand Prix at Imola.
The trial is designed to test the initiative of reducing the numbers of tyres used over a grand prix weekend, with the plan to lower the sets of rubber available to each driver from 13 to 11.
Elsewhere, drivers will be required to only use the hard compound tyres in Q1, mediums in Q2 and the softs in Q3, unless the session is declared wet, then the tyre choice is free.
The move is intended to bolster F1's sustainability push, ensuring drivers use a wider variety of tyres over a race weekend to minimise waste.
But world champion Verstappen is not a fan of the impending experiments to F1's current qualifying format, which has proved popular since being introduced in 2006.
The Red Bull driver believes running the hard tyre in Q1 could prove tricky to warm-up, especially if track conditions are cold.
"I hope it's not going to be cold in Imola, otherwise it's going to be quite tricky," Verstappen said, as quoted by Motorsport.com.
"It's the same for everyone but I don't think we need to actually do these kinds of things in qualifying. I don't really see the benefit of it.
"It's better if we make sure that all the cars are close to each other and more competitive instead of spicing things up in that way, which I think is probably for the show."
Verstappen's Red Bull's team-mate Sergio Perez agreed that changes were not necessary from a entrainment standpoint, pointing out how evenly spread the field was in qualifying at the season opener in Bahrain.
"I think we don't need that when you see the qualifying we had [in Bahrain], how close everything was," Perez said. "We do not really need to change anything.
"But we'll see, we'll see once we try it but I don't think there's a need to change something that is working well."
Ferrari's Charles Leclerc also gave his take on F1's qualifying trials, adding: "I don't feel there was a need for change, but let's try and see."
---