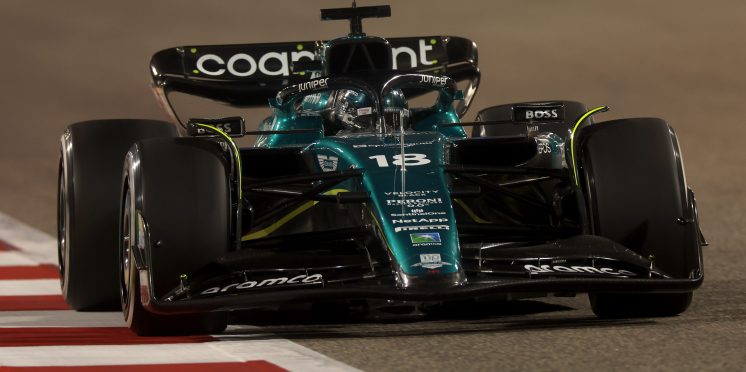 Stroll recounts 'insane' recovery from bike crash to race in Bahrain GP
Lance Stroll felt his chances of racing in Formula 1's Bahrain Grand Prix were slim as he was "so far from being fit to drive" after his bike accident.
Three days before pre-season testing, Aston Martin announced Stroll would not take part in the test after sustaining injuries whilst training on his bike in preparation for the season.
Stroll's injuries were later revealed to be a fracture on both wrists and a broken toe, leaving reserve driver Felipe Drugovich to take over test duties.
The Canadian underwent surgery by Xavier Mir, who is best known for treating MotoGP riders, before an intense period of rehabilitation to try recover in time for the season opener.
Following a session in Aston Martin's simulator on Wednesday, Stroll was declared fit to race in Bahrain and remarkably finished the 57-lap event in sixth place.
Speaking on the F1 Nation podcast, Stroll opened up on his painful ordeal, revealing doctors did not expect him to fit until the next month's Australian Grand Prix.
"It was the most insane two weeks of my life," Stroll said.
"I fell off my bike and I went down really hard. And I knew right away both wrists were crushed. I only noticed my toe at the end of the day, because I was so focused on my wrists.
"My whole world was just crumbling in front of me, because I was already thinking I'm probably going to miss a few races. All those thoughts are going through your head and like horrible timing, four days before the test."
Stroll foresaw being treated by Doctor Mir as his best chance to fast-track his recovery in time to participate in Bahrain.
"He did that surgery on my right wrist and then put me in a cast on the left wrist," Stroll explained
"He said: 'We're going to immobilise you for two to four weeks on the left wrist but we don't know how long it's going to take the right wrist… hoping [in] Bahrain you'll start to get some movement. You may be able to drive and then the toe is going to just take time.'"
After successful surgery, Stroll was sure he would be unable to race as his fitness levels were nowhere near the level needed to drive a grand prix car.
But significant progress in his recovery, as well as an intense run in the simulator, meant he got to all-clear to travel to Bahrain.
"I didn't think I was going to be able to be in the car anytime soon. I couldn't move. I was so far from being fit to drive. I was just with my osteopath Henry 10 hours a day, doing rehab," he continued.
"Last week, around Monday or Tuesday, I [could] suddenly start to feel a little bit more movement. I was in the sim on Wednesday and it hurt like hell, but I was like, 'Hey, by the time I get there on Friday for FP1, maybe I'll be able to do it.'
"[The doctor said] the wrists are healthy enough to go racing. So, I was like okay, I'm screwed, I'm just gonna go try.
"I managed to get in the car on Friday. Anyway, it was a great life experience, makes for a great dinner story…"
The extent of Stroll's injuries were visible in practice when he struggled to fully rotate his wrists at his first corner, and after the race he admitted the pain had made it difficult to go flat out.
"Yeah, I was in pain. Just trusting my wrists, like catching snaps…it doesn't give me the confidence to fully push the car 100% because that stuff is still difficult.
"Thanks to the whole medical team. Doctor Mir, my osteopath, there were so many people helping me out."
---