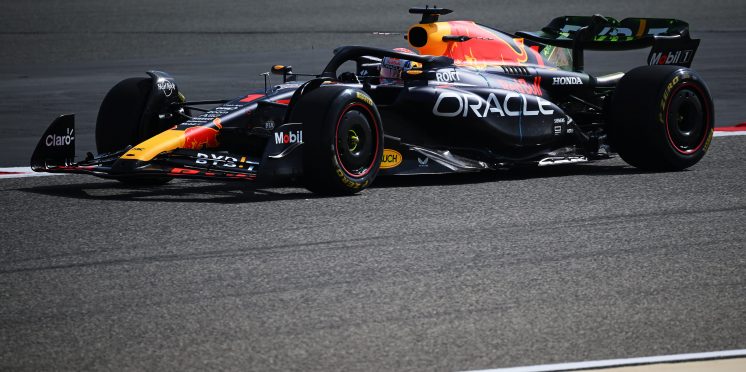 Verstappen: Red Bull's RB19 F1 car 'definitely an improvement' from last year
Max Verstappen says Red Bull's 2023 Formula 1 car is "definitely an improvement" from the RB18 and there is more performance to come from its new package.
Red Bull has looked a class act in pre-season testing with the RB19 clocking plenty of milage and has run with few issues since the three-day test began on Thursday.
Verstappen topped the opening day's running, completing more than three race distances before sharing the car on Friday with team-mate Sergio Perez.
The reigning world champion handed over test duties to Perez for the final day of testing on Saturday and is encouraged by Red Bull's 2023 challenger.
"I think the car is working really well," said Verstappen, as quoted by Motorsport.com. "Just going through a lot of things that we wanted to try, and everything is very interesting, what we have been trying.
"So very positive days for me. And just in general enjoying driving the car."
Verstappen said while the RB19 is an evolution of last year's title-winning 2022 car, he noted how it felt different to drive and did not feel as "lazy" due to the new car being much lighter than its predecessor.
"There are quite a few differences in the cars," he said. "So it definitely drives a bit different. I think that's also a bit related to the tyres. But overall, I think it's definitely an improvement from last year.
"The main issue we had last year is that the car was massively overweight. So in the beginning, the car was just very lazy it was not turning in, because the weight was also in the wrong place on the car.
"And throughout the year we got rid of that, and you could see the performance of course was increasing a lot and it became more of a race car.
"And this year, just a continuation, but also things that we found and put on the car that were clearly better. And yeah, we already have things in the pipeline coming, and just work in progress. But we know what our limitations are. And we work around this."
Asked if he was confident about Red Bull's chances ahead of the first race of the season in Bahrain next week, Verstappen said: "It's not only about confidence, it's just about actually putting the performance down.
"I think we had really positive test days and we learned a lot, and hopefully we just start off the weekend well, and then we'll see where we end up."
He added: "It's difficult to say, I think that it's more important that we just focus on ourselves. We're happy with what we're doing."
---