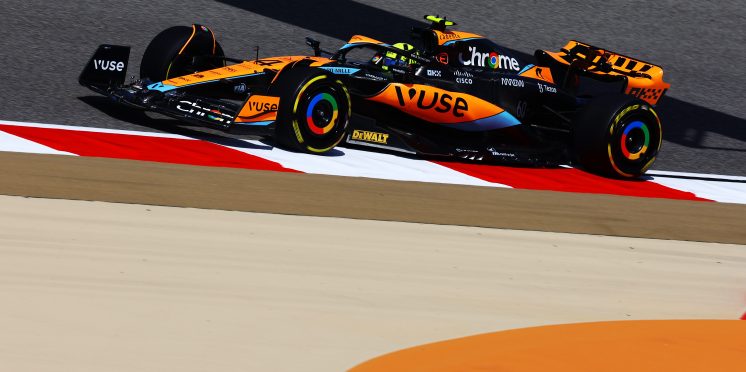 McLaren shy of hitting development targets with MCL60 F1 car
McLaren CEO Zak Brown has admitted the team has failed to hit development targets for its 2023 Formula 1 car, but remains hopeful it can turn its fortunes around.
Pre-season testing has so far not been plane sailing for the Woking-based outfit as it has faced a few teething issues with the MCL60.
Thursday's running was slightly hampered after it needed to bolster parts in order to avoid failures, while the car in the hands of drivers Lando Norris and Oscar Piastri has not looked particularly quick.
McLaren's troubles were hinted at the team's car launch earlier this month when it conceded it was not entirely happy with the launch-spec version of its 2023 challenger.
There are plans to introduce its first major upgrade package at the fourth race of the season in Azerbaijan that McLaren hopes will iron out its current problems.
Speaking at testing in Bahrain on Friday, Brown opened up about McLaren's on-track struggles, saying it was behind its "projected targets" but was unsure where the team would stack up against the other teams.
"It's hard to know until we get going," Brown said when asked how far off the pace McLaren could be," as quoted by Motorsport.com.
"We know we set some goals for development, which we didn't hit, and we felt it was better to be honest about that.
"Like everyone, we have a lot of development coming. So, we are encouraged by what we see around the corner.
"I think we will be going into the first race off of our projected targets, but it is hard to really know where that means we will be on the grid."
When comparing the team's new car to its predecessor, new McLaren signing Piastri – who drove the MCL36 in the post-season Abu Dhabi test – suggested it was only "a small step" and was "similar to what I remember" from last year.
Brown acknowledged McLaren's long-term aim to be a front-running team relies on the completion of its new state-of-the-art wind tunnel, but also stressed it would need to accelerate development in order to move up the grid.
"Our aspirations are to get back to the front," he said. "We know that will take a little bit more time. All the technology infrastructure is either in or going to be pretty much completed this year. So that's quite exciting.
"We have some good developments coming, but so does every other single team in F1. We need to pick up the pace."
---