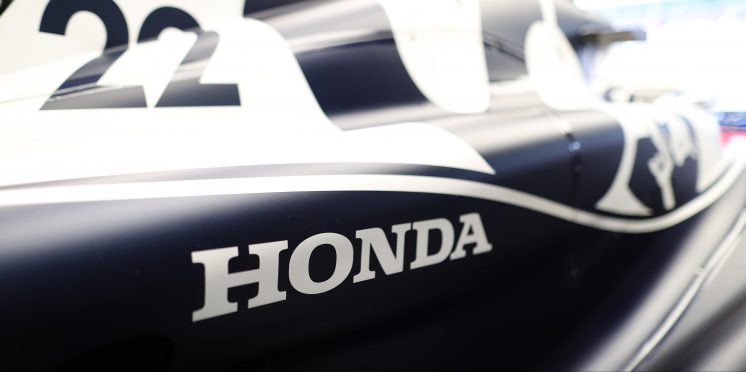 Honda approached by 'multiple teams' over 2026 F1 engine deal
Honda has received interest from "multiple teams" over a potential Formula 1 engine supply from 2026, with the Japanese manufacturer "curious" about staying in grand prix racing.
Despite leaving F1 at the end of 2021, Honda is considering a comeback after the FIA confirmed it was one of six manufacturers to register an interest in supplying engines for the new regulations in 2026.
Honda is currently evaluating its options after current partners Red Bull and AlphaTauri announced a future partnership with American car giant Ford earlier this month.
While Honda has notified an interest in producing a power unit for the new rules, it is still yet to make a decision over if it will commit to the project but remains intrigued by F1's future direction.
Speaking in Japan on Monday, Honda Racing Corporation president Koji Watanabe said, as quoted by Motorsport.com: "Formula 1 is greatly shifting towards electrification, and carbon neutrality is our corporate-wide target at Honda.
"We think that F1's future direction is in line with our target, so that is why we have decided to register as the manufacturer of a power unit.
"We're curious about where F1 is going; F1 being the top racing category and how is that going to look with more electrification happening? We would like to keep a very close eye on that. And that is why we have decided to register as a PU manufacturer.
"After we made the registration, we have been contacted by multiple F1 teams. For the time being, we would like to keep a close eye on where F1 is going and just see how things go. For now, we don't have any concrete decisions on whether or not we will be going back to joining F1.
"But, from the perspective of technological development, we think that knowing that this is being part of F1 is going to help us with technological development. So that is where we are."
Reports have emerged in recent weeks that Honda has held discussions with McLaren over a possible reunion, despite the turmoil of its previous engine partnership that ended in 2017.
McLaren is a realistic option for Honda, along with Williams – who worked with Honda in the mid-1980s – as both teams do not have an alliance to a manufacturer.
Red Bull's decision to strike a deal with Ford to develop a new power unit has prompted Honda to mull over its options to supply another team.
Asked why talks with Red Bull about renewing its ties from 2026 had failed, Watanabe replied: "It was not a failure. We never really saw that as any failure of any sort.
"As a technical partner, we're always in contact with Red Bull. So, there are many topics that we discuss and many that we have discussed.
"But out of this dialogue, it was decided that we will not continue this partnership beyond 2025. So, there's nothing that's fixed from 2026. It is as simple as that."
---