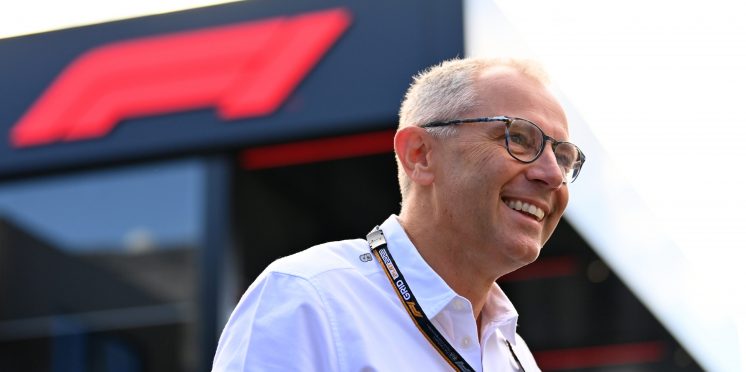 Domenicali asserts F1 won't 'gag' drivers amid FIA's political clampdown
Formula 1 will "never put a gag on anyone" in the wake of the FIA's controversial decision to clampdown on drivers making political statements, says CEO Stefano Domenicali.
The FIA has made a tweak in this year's international sporting code that prohibits drivers from commenting on "political, religious or personal" issues without approval.
The news has not gone down well with several drivers who have responded to the situation in recent days as media actives ramp up ahead of the 2023 season, including Valtteri Bottas and Alex Albon.
Bottas questioned why the FIA was trying to "control us" from having a say on matters outside of grand prix racing, while Albon felt drivers have a "responsibility" to speak up on important issues.
In an interview with The Guardian, Domenicali was clear F1 did not take a similar view to the FIA on the matter, insisting it will not silence drivers from having their voice heard.
"F1 will never put a gag on anyone," said Domenicali. "Everyone wants to talk so to have the platform to say what they want in the right way the better it is. We have a huge opportunity because of the position of our sport which is more and more global, multicultural and multivalued.
"We are talking about 20 drivers, 10 teams and many sponsors, they have different ideas, different views. I cannot say one is right, one is wrong, but it is right, if needed, to give them a platform to discuss their opinions in an open way.
"We will not change that approach as a sport. That should be the line of our sport, to give everyone the chance to speak in the right way, not with aggressive tones or to offend, but with respect."
Domenicali revealed he had been in regular contact with the drivers and the Grand Prix Drivers' Association to discuss how the situation can be dealt with.
"I had a discussion with the drivers about this last year," he said. "About how F1 could be a platform, to have a spotlight on certain things we believe are right to talk about. F1 should help the drivers if they want to discuss certain subjects.
"It is important to have a very constructive dialogue. If this is not happening it can create either confusion or problems where there need not be problems.
"We keep monitoring the situation. We keep the drivers informed, we meet with the GPDA to discuss it. How we can allow the drivers to be open as human beings in our sport.
"Athletes can be very emotional and passionate about some things, and they need to discuss that constructively with people they trust."
Despite the changes made by the FIA, Domenicali expects the governing body to come forward and clarify what the new ruling entails.
"We are talking about a regulation and the regulator is the FIA," Domenicali said. "I believe the FIA will clarify what has been stated, in terms of respecting certain places where you cannot do it.
"I am sure the FIA will share the same view as F1 but they are part of an Olympic federation, so there are protocols to which they have to abide."
---