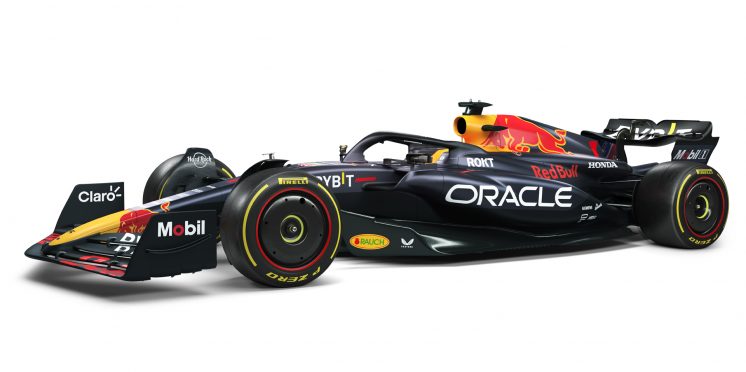 Red Bull unveils 2023 F1 livery in New York launch
Red Bull has revealed the livery it will be running on its 2023 Formula 1 car, the RB19, ahead of the new season at a launch event in New York.
The Milton Keynes-based outfit wrapped up both world championships last year in dominant fashion, winning 17 of the 22 races.
It marked Red Bull's first championship double since 2013, with Max Verstappen claiming back-to-back drivers' titles with a record-breaking 15 victories over the season.
But the title success was marred slightly after Red Bull was found to have breached F1's cost cap in 2021, leading to a $7 million fine and a 10% reduction in aerodynamic testing.
While the controversy hangs over the team heading into the new campaign, Red Bull is hoping to overcome its punishment and successfully defend both of its titles.
Red Bull's 2023 challenger will run a blue matte colour scheme that the team has adopted on its cars in recent years.
There is no change on the driver front as Red Bull retains the same line-up for a third straight season, with reigning champion Verstappen partnered by four-time grand prix winner Sergio Perez.
Perez's 2022 season was his best yet, scoring two victories in Monaco and Singapore and sealing a maiden pole position in Saudi Arabia to finish third in the drivers' standings.
Verstappen and Perez secured Red Bull's first constructors' championship of the V6 hybrid era last year but the pair's relationship came to blows at the end to the season when Verstappen disobeyed team orders to let Perez past at the penultimate race in Brazil.
The RB19 will make its on-track debut during a shakedown at Silverstone before it is driven in anger for the first time in pre-season testing in Bahrain on February 23-25.
---