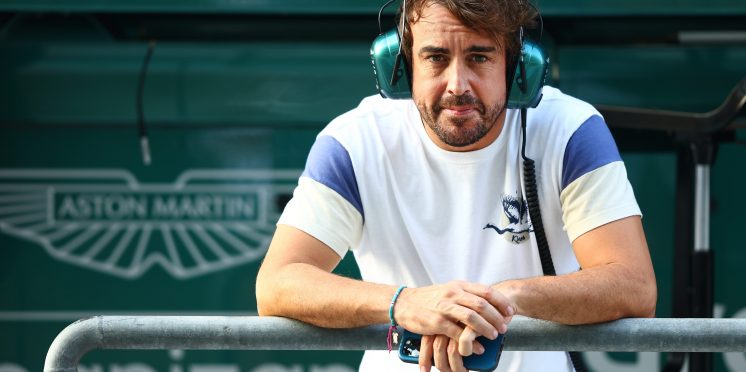 Alonso 'will not accept' racing in F1 below his peak
Fernando Alonso says he will not continue driving in Formula 1 if he isn't performing at his best, but plans to remain in the series for "two to three years".
Alonso made a return to F1 with Alpine in 2021 after spending the preceding two years racing in the World Endurance Championship, Indy 500 and Dakar Rally.
Despite a difficult start to his third stint at the team, Alonso soon re-discovered his old form, finishing ninth in the drivers' standings with one podium finish in Qatar – his first top-three finish since 2014.
Alonso's 2022 season was blighted by reliability issues but the two-time world champion felt he was driving at a better level than through most of his career despite being 41.
For this year, Alonso has made the switch to Aston Martin after being convinced by the team's long-term project, even though it finished three places behind Alpine in last year's constructors' championship.
Ahead of his 20th season in F1 since his debut in 2001, Alonso stressed he would not continue racing if he didn't think he could drive at his peak, or if Aston Martin was not capable of closing the gap to the front-running teams.
"No, I think I will not accept that and I will not continue if I don't believe that we can have a chance," Alonso said, as quoted by Motorsport.com.
"I don't know if it's one percent chance or 10 percent, but I will only continue because I believe that we will have a chance.
"Next year to close the gap that Aston Martin has I think it's unrealistic, but we need to put the foundation we need, to put the baseline to future cars and to work better than the people around us.
"This is a very competitive environment, so to become a champion you need to deliver something special. I'm ready to deliver something special from my side and I expect the same from the team."
Alonso put pen to paper on a multi-year deal at Aston Martin to replace the retiring Sebastian Vettel that will see him race on into his mid-40s.
The Spaniard has publicly declared his desire to stay in F1 for many more years but is remaining tight-lipped over whether he will still be driving after his current contract ends.
"I think I would take it year by year," he explained.
"I don't know, [in 2021] I was maybe not 100%. If I do a few seasons like that, even if I perform from the outside okay but I don't feel happy with myself, then maybe I stop.
"And [2022] for example, I feel very proud. I will continue whatever the results are next year, because I know what I can give to the team. So, I don't know, two to three years for sure."
---