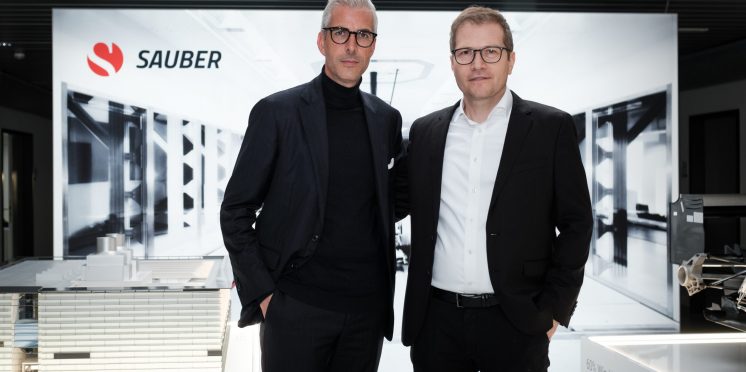 Alfa Romeo appoints Alessandro Alunni Bravi as new F1 team chief
Alfa Romeo has named Sauber managing director Alessandro Alunni Bravi as its Formula 1 team representative in the first appointment under new CEO Andreas Seidl.
The Sauber-run operation is entering its final season racing under the Alfa Romeo name after announcing last year it would end its partnership with the Italian manufacturer at the end of 2023.
In the time of the announcement, Alfa Romeo team principal Frederic Vasseur left at the end of 2022 to take up an identical role at Ferrari, while Andreas Seidl was hired from McLaren as CEO of the Sauber Group.
The changes come in the wake of Sauber's merge into the full Audi works team by 2026, but the Hinwil-based team has revealed it won't have a team boss for this season.
Alunni Bravi – who has been part of the Sauber Group since 2017 – will instead represent the team at all race weekends and off-track functions in a separate role.
The Italian will work together with the technical and operational departments and report directly to Seidl, who will focus on growing the team in the short term and build towards becoming Audi in 2026.
"I want to thank Andreas and our shareholders for their trust, and I want to reiterate my commitment to giving my best to live up to their expectations and represent the team in the best possible way," said Alunni Bravi.
"It is a huge privilege to keep working with a group of incredible people who, over many years, have helped me integrate within the Sauber Group: what they gave me in this time will enable me to fulfil this task and represent the team according to our shared vision and our objectives.
"I am fully conscious of the work we have ahead of us and of the challenges that face us: I approach this task with humility, knowing I am part of a strong team that will get the job done, and with the belief we have everything we need for a successful future."
Seidl is "convinced" Alunni Bravi's experience will make him a valuable asset to the team, as it aims to build on a sixth place finish in last year's constructors' championship.
"His vast experience in motorsport has equipped him with all the tools he needs to succeed, and his intimate knowledge of the team, of which he has been part for more than five years, will ensure stability and continuity in our progression," said Seidl.
"Alessandro representing the team during the Formula One championship will allow me to focus on growing the Group and preparing for the challenges and opportunities that await us.
"I thank Alessandro for his belief in our vision and I welcome him to this additional position: I am convinced this is another valuable addition to what is without any doubt a very strong team, from the drivers to the management team, to each one of our employees, capable of building on last year's success and creating a bright future for Sauber."
---