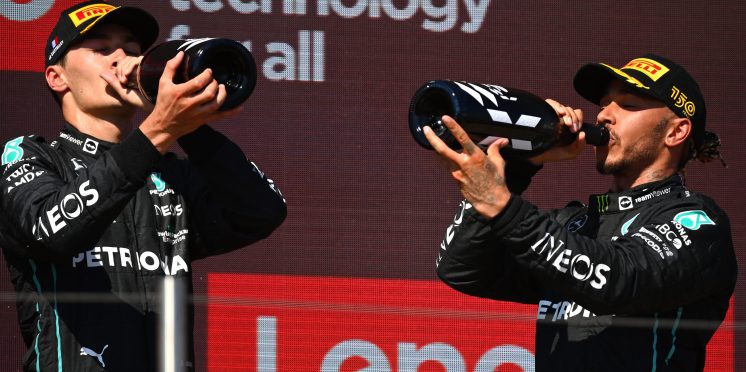 Russell unfazed by prospect of Hamilton conflict if Mercedes fights for F1 title
George Russell has refuted suggestions his relationship with Mercedes team-mate Lewis Hamilton could breakdown if the team is in a position to fight for this year's Formula 1 title.
Russell will partner Hamilton at Mercedes for a second season in 2023, coming off the back of a difficult 2022 campaign where the team was plagued by its fight to tame the W13's porpoising issues.
Before Russell was confirmed as a Mercedes driver, Hamilton made no secret of the fact he was keen for the German manufacturer to retain Valtteri Bottas, but both drivers enjoyed a strong bond last year.
Mercedes is hopeful is can mount a fightback in 2023 and return to running at the front of the grid having ended the previous season with just one victory to its name.
But should the Silver Arrows find itself in a championship fight, Russell does not believe it would cause tension between himself and Hamilton, even if there is a "different dynamic" in their relationship.
"I mean naturally if you are fighting for 1-2s there will be a slightly different dynamic and that's only natural," Russell said, as quoted by Motorsport.com.
"But I think the thing we have going for us is the fact that we are at very different stages of our career.
"It kind of feels like we are in this together, really.
"If we get to next [season] and we've got a car that's capable of 1-2 finishes, we will have a huge amount of pride in thinking we have contributed together in helping the team achieve this.
"And then we go about our business. But we've got no reason to have conflict. We have got a good relationship.
"We need to give each other respect, and I think we gave each other respect [in Mexico at the first corners] as an example.
"We recognise the importance of that within the whole team. If our relationship starts to break up, it's going to have an impact on the team and ultimately it's going to go full circle and affect us as well.
"I think we can continue to build off this and if anything our relationship will probably get closer as time goes on."
Russell was only the third driver to outscore Hamilton over a season while in the same car last year, with Jenson Button at McLaren in 2011 and Nico Rosberg in 2016 the only other drivers to finish ahead of the seven-time world champion in the drivers' standings.
---