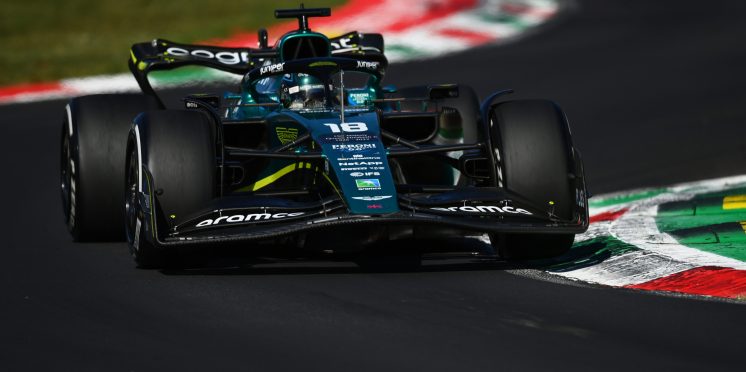 Aston Martin's 2023 F1 car features 'clever innovations' after finding rules loophole
Aston Martin has claimed to have found a small loophole in the Formula 1 rules that will see its 2023 car feature some "clever innovations".
Following a late season surge that saw it miss out on claiming sixth in the constructors' championship to Alfa Romeo only on count back, Aston Martin is working hard on its 2023 challenger ahead of its launch on February 13.
There is high interest around the Silverstone-based outfit with its new factory almost complete and the arrival of two-time world champion Fernando Alonso to partner Lance Stroll.
While details of its new car – the first to be designed by technical director Dan Fallows since joining from Red Bull – remain unknown, Aston Martin suggests it will cause a stir.
"We've implemented a few clever innovations on the new car – they're the icing on the cake," said Aston Martin deputy technical director Eric Blandin in an interview published on the team's website.
"They're a nice-to-have, but not a must-have.
"It's great when you find a small loophole and can use it to your advantage, but it's not often you can base an entire car around it. Instead, it's essential to get the basics right, and then you can add things.
"When you start a new car project, you identify what your limitations were the previous year – and how you can overcome them with the new design – and you define the architecture that will give you the most potential for the future.
"If you pursue the wrong concept, you can end up boxing yourself in – you run out of road for development – and that's a very difficult situation to get out of."
Aston Martin is one team who has already pushed the limits on car design under the new technical regulations, having revealed an innovative rear-wing concept at last year's Hungarian Grand Prix.
The design was permitted but has been outlawed for this season, and after Aston Martin went a different route with its 2022 car mid-season after a poor start to the year, the AMR23 is poised to be a revolutionary concept.
Asked how much of the 2023 car would differ from its predecessor, Blandin said: "We took all our learnings from last year's car and applied them to this year's car.
"So much of the AMR23 is new, it's completely different from the AMR22. We've changed more than 90 per cent of the parts and more than 95 per cent of the aerodynamic surfaces are different."
Blandin was also clear that the team would not try to pull the wool over the eyes of fans by revealing a rebranded old car at its launch.
"We will unveil the actual car, just as we did last year," he said. "The car we reveal at our new factory in Silverstone on 13 February will be the real AMR23. We're not going to disappoint fans."
---