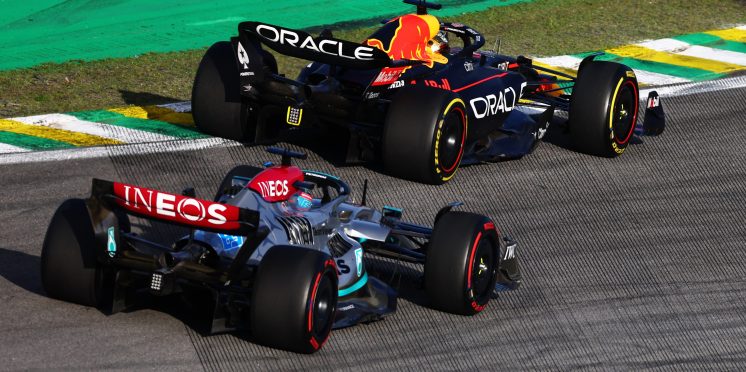 Wolff: Mercedes must be 'realistic' with 2023 expectations
Toto Wolff has cautioned Mercedes' Formula 1 hopes for this year, saying the team could start the season no closer to reigning champions Red Bull.
Mercedes has set it sights on rebounding from its worst season in the V6 hybrid era last year when it finished third in the constructors' championship with just one win at the penultimate race in Brazil.
The Brackley-based outfit's campaign was marred by its struggle to cure the levels of porpoising on its 2022 car, but a strong end to the year has boosted the morale of the team.
There has been speculation as to whether Mercedes could decide to continue with its 'zero pod' concept from last year, which Wolff has suggested it will adopt on the W14.
But rather than talk up his team's chances of mounting a title bid, Wolff believes it would be wise for it to keep its expectations in check given how far off Mercedes was from Red Bull last year.
"I think we have understood how we fell back, where the shortcomings are, and where we have gaps in understanding," explained Wolff, as quoted by Motorsport.com.
"We're working hard on putting a car on the ground that has addressed all of that. But we will only see when starting testing whether we have unlocked the potential that we believe has always been in the car.
"We have no doubt, when you're starting behind by half a second, that it's going to be difficult to catch up to such great organisations like Red Bull, or Ferrari.
"Now, having said that, we are super determined in doing just that. But we need to set our expectations at a realistic level."
Mercedes spent most of 2022 trying to understand its issues rather than push for car performance, leaving it playing catch up for much of the season.
Wolff is hoping that Mercedes will be at the sharp end from the first race this year as it would lay down a marker for it to push on and make further gains.
"If we perform in the way we hope, then we'd like to be part of the racing at the very front," he added. "I think that would be a starting point.
"But we don't take that for granted. It could well be that the gaps are like they were at the end of last season.
"I think there is so much potential still that within our car, within the concept, the way we drive the car, etc, that maybe our development slope can be steeper in the months to come."
---