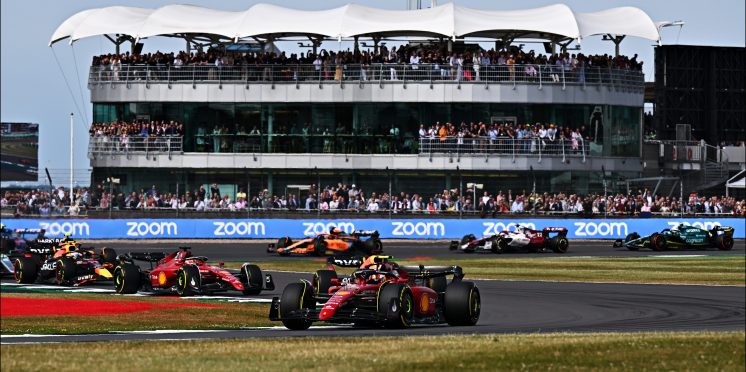 Silverstone eyeing extending British GP to four-day event
Silverstone has revealed it is "working hard" to extend the Formula 1 British Grand Prix to a four-day weekend to offer fans more on-track action.
The Northamptonshire circuit has welcomed sell-out crowds following the COVID-19 pandemic, enjoying a rise in attendances amid F1's recent surge in popularity.
Last year's British Grand Prix drew a record 400,000 fans over three days, with more than 100,000 spectators for each day of on-track action.
But Silverstone managing director Stuart Pringle wants to expand the race weekend to four days of racing action to further enhance the spectacle for fans.
Expanding the grand prix weekend would allow for more support series to run on a Thursday, while F1 would stick to the traditional three-day format.
This approach has been adopted at the Australian Grand Prix, running for four days of track action from Thursday.
Speaking on the main stage at the Autosport International Show in Birmingham, Pringle said, as quoted by Motorsport.com: "We're looking to extend the weekend.
"I'm working hard on Formula 1. I believe they need to change the format of the weekend. They say: 'Oh well it's the FIA, they've got to do the systems test and stuff' – well, do them a day earlier.
"Let's do some stuff on Thursday. There are a lot of people who want to come and see things, and three days isn't really enough.
"Let's make it that big, best part of a week's festival. People do turn up at Silverstone on a Tuesday and put the tent up, and that's it, they're in."
This year's running of the British Grand Prix is set to be another sell-out, with Silverstone working to ensure there is more of a wider offering of activities for fans on a race weekend.
Prior to Liberty Media's acquisition of F1 in 2017, Silverstone's future was under threat due to financial issues, but amid its recent boom in attendances, Pringle acknowledged there has been a "huge change in our fortunes" from previous years.
"It's a given you're going to sell out Sunday," said Pringle. "We got to selling out Saturday a few years ago, and now Friday is all but gone as well. That's where your profit is. And if you don't make profit – Mr. Ecclestone – you cannot reinvest in the infrastructure.
"It is creaking and groaning, Silverstone, because the BRDC was unable to make a profit out of the grand prix for 40 years. Now, I'm pleased to say the owners of F1 take a sensible view that is it not in their interest to crush the promoter, and they recognise the BRDC invests all of its money back into the facilities.
"If we put in better facilities we get a better experience of the fans, and if it's better for the fans, it's better for the championship all round, and everyone is a winner."
---