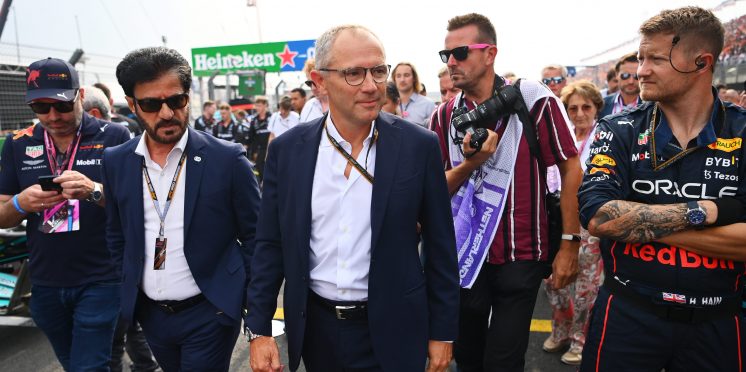 FIA: 'no reason' for F1 not to welcome new entries
FIA president Mohammed Ben Sulayem says there is "no reason" for Formula 1 to reject the prospect of new teams joining the grid amid Andretti/Cadillac's entry bid.
Andretti announced last week it was joining forces with General Motors with the intention of entering F1 under the Cadillac brand, just days after Ben Sulayem revealed plans for a new process aimed at expanding the grid.
The news, however, has been met with opposition from existing teams due to concerns that welcoming a new team will reduce the share of prize money distributed between the current grid.
Reports suggest a senior team figure felt Andretti's partnership with General Motors was more of a "badging exercise" than a long term commitment, with a push to increase the current $200 million entry fee.
F1 has also issued a lukewarm response to Andretti's project, issuing a statement reminding prospective new entrants will require its approval, as well as the FIA's.
On Sunday, Ben Sulayem condemned the "adverse reaction" to Andretti's entry bid, arguing F1 should be "encouraging" new entires to broaden its appeal.
Speaking at a press conference at the Dakar Rally, Ben Sulayem said the FIA would welcome proposed entries judged credible enough to join the F1 grid even "if they are small".
"In general, if we look at the sustainability of Formula 1, we have to open it up to other brands. We can have up to 12 teams on the grid," said Ben Sulayem, as quoted by RaceFans.
"An OEM – manufacturer – will help make Formula 1 better and I see no reason for which we should not welcome new teams, especially the Americans. We have three races there already this year.
"We welcome any proposal to be one of the 12 teams. We accept good teams, even if they are small, as is the case with Haas. We hope that things will change and we will be able to have a proper eleventh team, we'll see what happens."
---