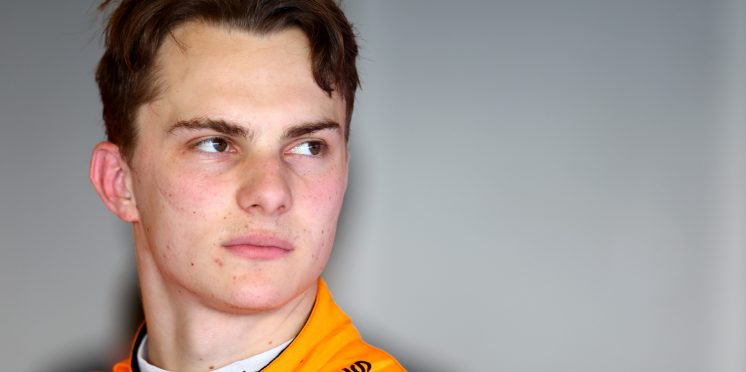 McLaren expects 'future star' Piastri to push Norris in rookie F1 season
McLaren CEO Zak Brown says Lando Norris will be a tough benchmark for Oscar Piastri to match but has backed his new driver to challenge Norris in his rookie Formula 1 season.
Piastri will make his F1 debut in just under two months at the opening race of the season in Bahrain and, off the back of a stellar junior career, promises to change the dynamic of McLaren's driver line-up.
Successive titles in F3 and F2 have many tipping Piastri to be a future star of grand prix racing as he steps into the seat vacated by countryman Daniel Ricciardo.
Ricciardo was largely outperformed by Norris over his two seasons at the team, finishing 85 points behind in the drivers' standings last year, and while Norris is highly-rated, Brown believes Piastri will push Norris hard once he gets up to speed.
"I don't have any expectations or set out this is what he needs to do by this date," said Brown on Piastri's prospects for 2023, as quoted by Motorsport.com.
"But I think Lando is as fast as anyone in F1. I think in race-winning equipment, he'd be winning races, I think probably everyone would agree with that.
"So Oscar is going to have a teammate that's one of the fastest drivers in the world. But I fully expect Oscar in time to challenge."
Piastri was at the centre of a contract dispute last year as McLaren and Alpine fought over his services for 2023 in a saga that was settled by the Contract Recognition Board.
In the wake of the outcome, Piastri faced criticism from Alpine boss Otmar Szafnauer for what he felt was a lack of loyalty to the team, but Brown was impressed with how Piastri dealt with the matter.
"I've been very impressed with him how he conducted himself over the summer," added Brown. "I thought Otmar's comments towards Oscar were very unfair and not accurate: especially having sat through the CRB and knowing exactly what happened.
"He was very mature through the whole process, which for a 21-year-old was impressive. With having all that pressure and spotlight, he was not frazzled, and he kept his head down.
"I think he's going to be a future star. I think what's important is that we understand he's not raced for the year. We don't have a lot of testing. I wish there was more pre-season testing, not just for Oscar, just in general. He is effectively going to get a day and a half, which is not a lot.
"I think he's going to be competitive and push Lando, we just need to give him time to get into the team. He is a very serious individual. And he's ready to go."
Piastri will be the third different team-mate Norris will raced alongside in his time at McLaren, with the Briton having already been paired against F1 race winners Ricciardo and Carlos Sainz.
Norris enjoyed a good relationship with both drivers on and off the track and became close Ricciardo over their time together at McLaren.
"Of course, we're more than friends really," Norris said about Ricciardo. "But I think it's something that with all of my teammates, I've always grown to have good relationships with them, and became good friends with them, I think on and also off the track.
"I always built a good amount of respect I believe between all the drivers that I have been with."
---