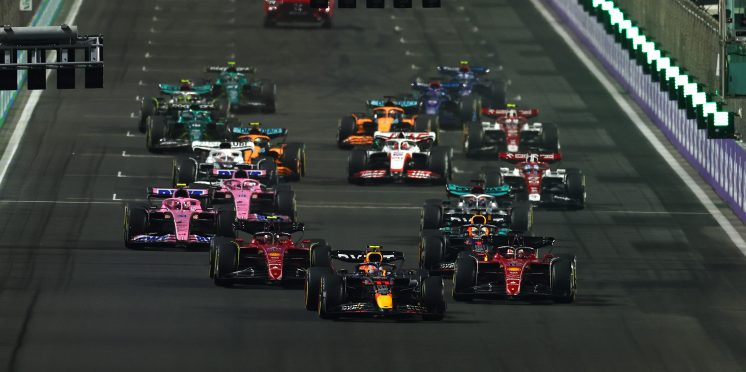 Further tweaks made to Jeddah F1 track for 2023
The layout of Jeddah's Formula 1 track has undergone further tweaks ahead of next year's race in a bid to improve driver safety and visibility.
Saudi Arabian Grand Prix promoters have revealed the extent of the changes for 2023 when the circuit will host its third race after joining the F1 calendar in 2021.
While the Jeddah Corniche Circuit has earned its reputation as the fastest street race on the schedule, the venue's tight layout and blind corners have come under fire from drivers from previous visits.
A series of tweaks were made prior to its second race earlier this season in order to improve visibility and increase safety, with some parts of the track being widened.
But now organisers have revealed further changes will be made for when Jeddah hosts its next race on March 19 next year.
Among the changes will see the high-speed section at Turns 22 and 23 have a revised fence placing and a bevelled curb to reduce speeds by 50km/h.
Two of the quickest blind corners of the track at Turns 14 and 20 have had the barriers and fencing moved back, allowing for a better eye-line for drivers.
Bevelled curbs have been added at several corners, while 'rumble lines' have been placed at Turns 3, 14, 19, 20 and 21, which are designed to stop drivers from running wide and slow them down.
"The evolution of the Jeddah Corniche Circuit continues apace and we are excited to add these further tweaks to our magnificent track as a result of positive consultation with the FIA, F1 and the drivers," said Martin Whitaker, CEO of the Saudi Motorsport Company.
"The previous two races here in Jeddah have already confirmed the JCC as the world's fastest and most exciting street circuit and these new developments will only add to the spectacle that fans can expect to see next March when F1 returns to our city.
"It is vital for any circuit to listen and learn from those racing on it and use their feedback to grow and improve at all times.
"We are confident these changes will lead to even faster, more exciting and – crucially – safe racing and we can't wait to see the world's greatest drivers battle it out here under the lights again in 2023."
---