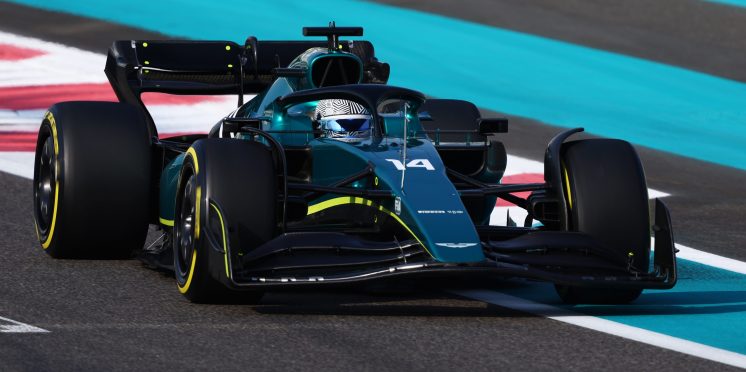 Alonso 'much more optimistic' after first Aston Martin F1 test
Fernando Alonso says he is "100-plus" percent happy with his move to Aston Martin for 2023 after completing his first Formula 1 test for the team in Abu Dhabi.
Alonso announced on the Monday after July's Hungarian Grand Prix that he was making the switch to Aston Martin from Alpine on a multi-year deal, leaving the French outfit after two years.
The two-time world champion does not officially starts work at Aston Martin until the beginning of next year, but was able to sample the AMR22 in Tuesday's post-season test in Abu Dhabi.
After completing 97 laps before handing over to Lance Stroll for the remainder of the test, Alonso said he was "happily surprised by everything" as he became aquatinted with the Aston Martin car for the first time.
"This year's car is not anywhere near of what we will run next year," said Alonso, as quoted by Motorsport.com.
"It was not really anything really to get confident or anything like that, it's not that it's going to be a continuation of this car or anything like that.
"For sure, they had a very strong weekend here. Sebastian [Vettel] qualified in front of me, so I don't think there was much of a difference between Aston Martin and Alpine on the weekend.
"I felt basically the same as well, I felt a very competitive car. Both Aston Martins finished in the points, so it was a good car anyway."
Aston Martin sat ninth in the constructors' championship when Alonso signed his contract, but a late-season surge saw it just miss out on finishing sixth to Alfa Romeo on count back.
Asked if was more optimistic after the test as he had been before jumping in the car, Alonso replied: "No, I'm much more optimistic now.
"When I signed for Aston Martin, I was 90% happy. When they started improving and finished the season on a high, I was 100%. This morning, I was 100 and now I'm 100-plus."
Alonso was left blown away by the strong reliability of the Mercedes power unit during the test, managing to go through the entire morning session without any issues.
The Spaniard boar the brunt of Alpine's reliability problems in 2022, retiring from six races with mechanical failures, including the final race of the season in Abu Dhabi.
"When they told me the mileage of the engine yesterday night, I was concerned, because I said that number is a little bit high on my standards," said Alonso.
"But we did 97 laps no problem, so it's outstanding for sure."
---