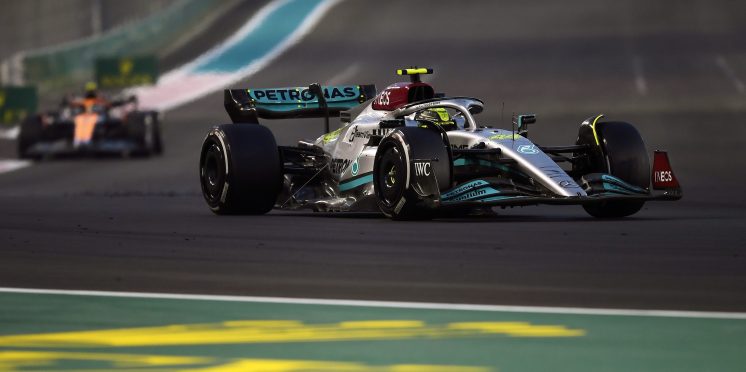 Hamilton: 2022 'up there' in my top three worst F1 seasons
Lewis Hamilton says he ranks 2022 "up there" with his worst seasons in Formula 1 after closing out the campaign without a victory for the first time in his career.
Hamilton's season ended with a first mechanical retirement for Mercedes in 2022, bringing a sour end to a year where the team struggled to tame a troubled W13.
The seven-time world champion was unable to secure a win over the 22-race season, marking his first winless campaign since debuting in 2007.
Despite claiming five second-placed finishes and nine podiums, Hamilton's race-ending issue late on in the Abu Dhabi Grand Prix saw him drop below Carlos Sainz in the drivers' championship to sixth place, his lowest-ever position in the final standings.
While Hamilton admitted he was glad to see the back of 2022, he said he always believed up until the final race he could register a win despite the problems Mercedes faced with this year's car.
"I always believed right to the last race that there was potentially a chance," Hamilton said, as quoted by Motorsport.com.
"I think it's important to hold onto hope and just keep working.
"I gave it everything and I think ultimately the last race was like the whole season, it sums up the whole year. So, I'm glad it's done.
"Of course it would have been nice to have a win. One win is not really enough, is it?
"I think this year when we got our first fifth it felt like a win.
"When we got our first fourth it felt like a win, when we got our first podium it felt like a win.
"Those seconds really feel like we achieved something, so I will just hold onto those."
Despite failing to win a race in 2022, Hamilton reckoned his 2011 season at McLaren was his hardest year in F1, when off-track distractions caused his form to dip and saw him out-performed by team-mate Jenson Button.
"No, I think 2011 was probably the hardest year that I've had," he added.
"Just in terms of life, this year is probably not the greatest.
"It's up there with the top three of worst seasons, but I think it's been a much stronger year in terms of myself, in terms of how I worked with the team, how we all stayed united.
"So, there's been lots of plusses from this year."
---