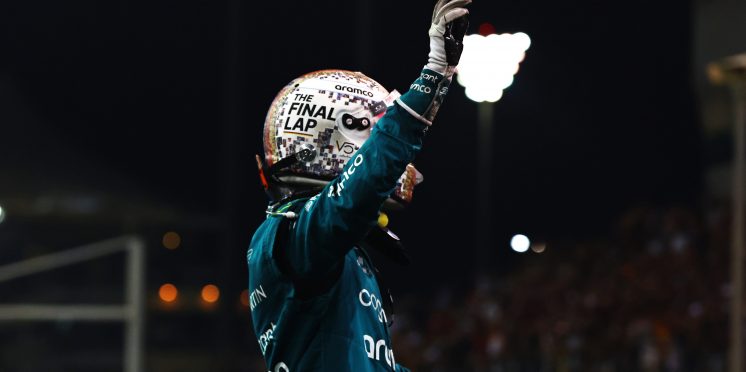 Vettel 'empty' after earning point in F1 farewell
Sebastian Vettel was left feeling "empty" after closing out his Formula 1 career with a points finish at the season finale in Abi Dhabi.
It has been an emotional weekend for the four-time world champion, who bowed out of F1 after 15 years in the sport with a point for tenth place.
Vettel and Aston Martin team-mate Lance Stroll both finished in the top 10 but were unable to help the team overhaul Alfa Romeo for sixth in the constructors' championship – losing only on count back.
Having performed donuts on the pit straight in the front of the main grandstand, Vettel said despite the disappointment of not finishing higher due to going down a different route on strategy, it was difficult to take in all the support he'd received on his final weekend as an F1 driver.
"I feel a bit empty, to be honest, it's been a big weekend," Vettel said.
"It was a bit of a different warm-up today to get into the race, but once the lights go off it's full-on race mode.
"Obviously, we didn't go for maybe the best strategy, so it was a shame because I think we could have turned the constructors' championship around for us.
"But overall, obviously a big day and a big thank you to all the support so many flags, so many smiling faces which has been very, very special. And yeah, I'm sure I'm going to miss more than I understand right now."
While Vettel said his two years at Aston Martin had not delivered the results he'd hoped for, he felt it had given him a different perspective outside of racing and a chance to raise awareness of environmental and social issues.
"I think the last two years have been maybe disappointing from a sporting point of view, but very, very useful and important to me in my life," he explained.
"A lot of things happened, a lot of things that I realised. I think it's a huge privilege being in the position that we are in and with that comes some responsibility, so I hope to pass on a little bit to the other drivers to carry on some of the good work.
"It's great to see that we have the power to inspire you with what we do and what we say. I think there are far bigger, and far more important things than racing in circles.
"But obviously, it's what we love and through that if we can transfer some of the really important values, that's big. And I think for that the last two years have been great for me.
"So, thank you for the support. Thank you for the messages, the letters and all the love in general.
"I will miss that, but it's been an absolute joy throughout my career, so thank you."
Vettel leaves as one of the decorated drivers in F1 history, winning four world championships and claiming 53 wins, 57 poles positions and 122 podiums.
---