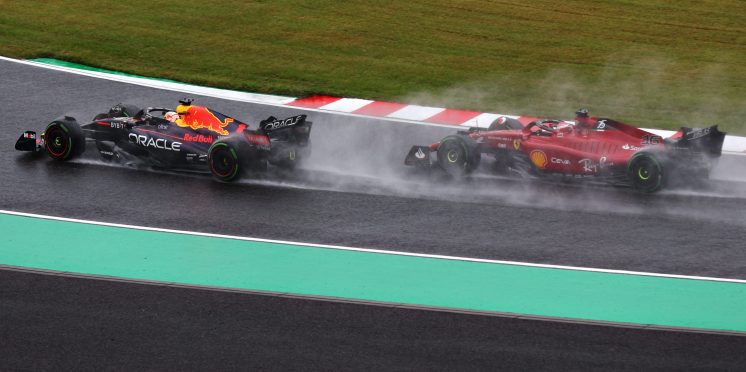 F1 considering fitting cars with wheel covers in wet races to limit spray
Formula 1 cars could be fitted with temporary wheel covers for wet races in the future as part of the FIA's bid to improve driver visibility and reduce spray.
Following F1's move to wider, heavier cars in 2017, heavy spray during rain-soaked grand prix's has been a major issue.
Drivers have suggested that the new ground effect cars, introduced at the start of this season, have only made the problem worse – seen more recently at last month's Japanese Grand Prix.
F1's return to Suzuka for the first since the global pandemic saw a lengthy stoppage due to the wet conditions before the race resumed, while the 2021 Belgian Grand Prix was stopped after just two laps behind the safety car with drivers complaining at the lack of visibility.
On Friday at final round of the 2022 season in Abu Dhabi, the FIA issued a statement outlining its plans to address the quantity of spray from the latest meeting of the F1 commission.
It discussed the possibility of fitting cars with wheel covers during races that can proceed with green flag racing in wet weather conditions, with the hope it will reduce spray.
"Driver feedback has suggested that there has been reduced visibility in extremely wet conditions with this latest generation of cars, which is a key determinant on starting, or needing to suspend sessions," the statement reads.
"Therefore, the FIA commenced a study to define a package of parts aiming to suppress the spray generated when running in wet conditions."
The FIA said it would also assess "the contribution of surface water picked up through the underfloor tunnels to understand its significance", and would ensure if wheel covers are approved that they would not "unduly hinder pitstop tyre changes".
Among other topics that were discussed was a plan to trial allowing DRS to be activated a lap earlier in a bid to try and keep the field close together.
It is set to experiment the rule change in the six sprint races next year, with a view to introducing it in all grand prix's from 2024.
---