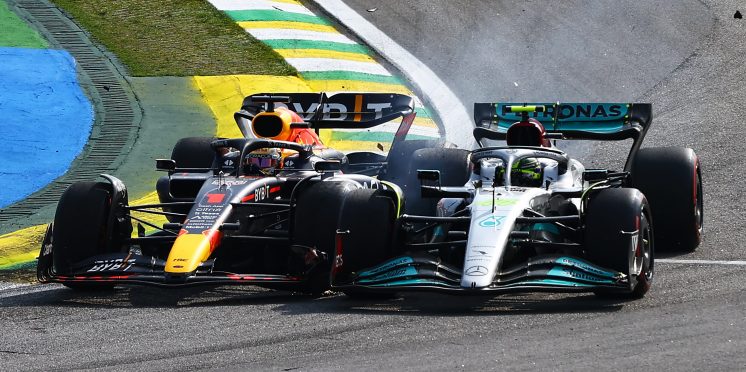 Verstappen: Hamilton had 'no intention' to leave space in Turn 2 clash
Max Verstappen believes Lewis Hamilton had "no intention" of leaving him space before their collision in Formula 1's São Paulo Grand Prix.
Verstappen tried to overtake Hamilton for second place straight after the safety car restart, but the two made contact as they rounded the Senna Esses.
The world champion went around the outside of the Hamilton at Turn 1 but found himself squeezed on the downhill run to Turn 2 when they came together.
Verstappen, who picked up front wing damage from the incident, was deemed predominantly to blame and was handed a five-second time penalty by the FIA stewards, while Hamilton continued unscathed.
Speaking about the clash, Verstappen said once he drew alongside Hamilton he suspected the battle would end in a collision.
"I just felt it, as soon as I was going next to him, that he had no intention to leave me space," said Verstappen, as quoted by Motorsport.com. "And okay, if you don't leave me space, are we just going to collide?"
He added: "I thought after last year, we maybe forget about it, we can finally race you know. Because first of all, when I went side by side, I thought okay, let's have a good race here.
"But then you feel it with a driver, if he's going to leave space or not. And there was zero intention to leave me space."
Verstappen admitted the stewards' verdict that he was more at fault for the coming together was a surprise.
"Yeah, to be honest, I was surprised when I got the five second penalty," he explained. "I mean, I was not upset. But if you asked me, 'would I do it again?' Absolutely."
Verstappen also felt that if Hamilton had have left him a bit more room, he would likely have still been in front when they exited the corner.
"I was, well I can say, 85% alongside, and my intention is never to crash," Verstappen said. "But I could feel he was just not going to leave me the space into that corner. And then yeah, we collide.
"If he would have just moved a little bit, he probably would have stayed ahead anyway. And it's a shame.
"I want to race. I want to have a good fight, but when the other one doesn't want to work with you…"
---