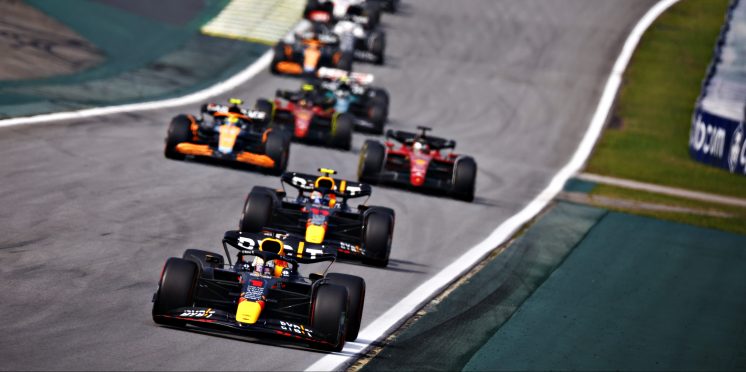 Perez: Verstappen 'showed who he really is' in team orders row
Max Verstappen defiance of team orders on the final lap of the São Paulo Grand Prix "shows who he really is", says Red Bull Formula 1 team-mate Sergio Perez.
A late safety car period allowed Verstappen, on fresher tyres, to make his way past Perez for sixth place, and was encouraged to close in on the cars ahead to take points off them.
Despite losing a position to his team-mate, Perez was reassured that if Verstappen could not make progress, he would move aside to help his push for second place in the drivers' championship.
On the final lap, Verstappen closed on Fernando Alonso's Alpine and received the instruction that he didn't pull off the overtake by Turn 12, he would allow Perez to retake P6.
But although Verstappen could not pass Alonso, the two-time world champion did not back off before the chequered flag, finishing four seconds ahead of Perez.
Verstappen's race engineer Gianpiero Lambiase asked him "what happened?", to which he replied: "I told you already last time, you guys don't ask that again to me, OK? Are we clear about that? I gave my reasons and I stand by it."
Perez's main challenger for the runner-up spot in the drivers' standings Charles Leclerc recovered from an early collision that left him down the order to finish fourth, meaning he heads to the final race in Abu Dhabi level on points with the Mexican.
After crossing the line behind Verstappen, Perez said on the radio: "It shows who he really is."
Red Bull team principal Christian Horner was heard apologising to Perez for the incident, and after talks with both drivers post-race, refused to go into details over what was discussed.
Asked about his decision to ignore the team's instructions, Verstappen said he had his reasons but stressed he would help Perez in Abu Dhabi if called upon.
"I have my reasons for that," Verstappen told Sky Sports F1.
"We just discussed that, and I think it was better that we finally sat together and spoke about it, and just moved forward from here.
"For sure, if we go to Abu Dhabi and he needs the points, because they're tied, it's not the end of the world, it's all about who finishes ahead anyway. If he needs the help, I'll be there.
"But it's good that we talked about it now and basically cleared everything that was there why I didn't do it."
Perez was asked if he had any incline what reasons Verstappen was referring to, saying he had "no idea" before adding: "Maybe you should ask him about it.
"Nothing to say really. After all I've done for him, it's a bit disappointing to be honest. I'm really surprised."
---