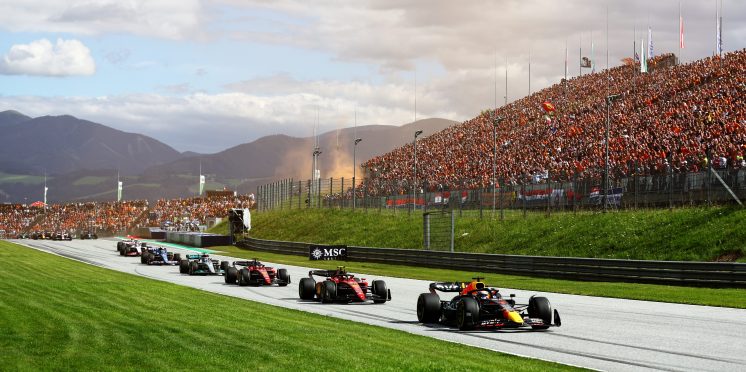 F1 to contemplate making sprint races a standalone event
Formula 1 is set to evaluate the idea of making sprint races at standalone event in the future, rather than deciding the grid for the main grand prix.
This weekend's São Paulo Grand Prix will stage the third and final sprint of the season, with the previous two being held in Imola and Austria earlier in the campaign.
Since the sprint events were introduced last year, they have yielded a mixed reaction from drivers and fans which has led to the formal being tweaked, such as awarding pole to the fastest driver in Friday qualifying rather than the winner of Saturday's sprint.
World champion Max Verstappen has been vocal about his criticism of the concept, and reasserted this view in Brazil on Thursday, saying drivers hold back from taking risks to prevent starting down the order for the main race.
"Honestly, I'm just not a big fan of it because I feel like we don't really race," Verstappen said, as quoted by Moiorsport.com.
"There are a few points that you get, but you also know that you can't really risk it because the main race is where you really get the points. You don't do a pitstop, so you just put on the tyre which will last the distance, right?
"With these cars, probably the racing is a little bit better. But overall, you don't really see a lot of overtaking unless there is a car out of position. So then, yeah, it's not really that fun for me.
"I know that of course we will have six next year. But, I mean, we can come up with things to discuss if we want it in a different way to maybe make it a bit more exciting, at least for me. But we'll see."
Next season will see the number of sprint races increase to six after the FIA finally approved the change, and F1 is now working with the governing body and the teams to plan ahead for 2023.
While it is yet to finalise at which circuits the sprints will take place, it has emerged F1 is looking into the possibility of making the event standalone.
F1 managing director Ross Brawn stated last year that he would be open to the idea of a standalone sprint event after the first running of the format in 2021.
Although points will still be on offer for the drivers, this will likely mean the grid for Sunday's grand prix will be decided by the traditional one-hour qualifying session.
Haas driver Kevin Magnussen said he would be in favour of making sprint races a standalone event, believing it would allow drivers to push harder.
"Max has a good point that the risks that you want to take in the sprint are less because it decides the position for Sunday," he said.
"So I think maybe a good tweak could be to separate that, so you can go for it."
---