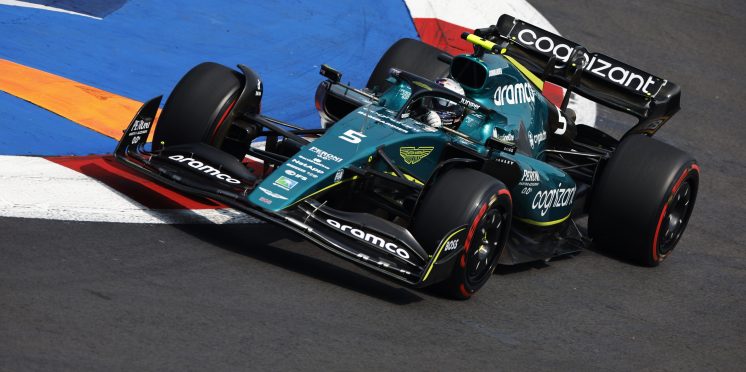 Vettel giving 'everything I have' to help Aston Martin's 2023 preparations
Sebastian Vettel says he remains committed to helping Aston Martin prepare for next year, despite only having two races left in his Formula 1 career.
Vettel announced in July he would retire at the end of the season after 15 seasons in the series, with this month's Abu Dhabi Grand Prix set to be his 299th and final grand prix start.
The four-time world champion will make way for long-time F1 rival Fernando Alonso, who has signed up to replace Vettel at the Silverstone-based outfit.
Since Vettel's retirement was announced, Aston Martin has endured an upturn in form, scoring points in three of the last four races to leave the team just four points adrift of Alfa Romeo in the battle for sixth place in the constructors' championship.
When asked if he still had a direct role in Aston Martin's 2023 preparations, Vettel stressed he was continuing to give "everything I have" to assist the team where he could.
"I have no reason to hold back anything," Vettel said, as quoted by Motorosport.com. "I'm not changing, I'm not going anywhere, so I say what I think. Nothing has changed compared to say last year."
It is common for teams to freeze drivers who are leaving out of car development for next seasons package, but while Vettel revealed he was "not really" talking with engineers about Aston's 2023 car, he said this meant the team knows "the weaknesses of this year and obviously is trying to fix them for next year".
Some of Vettel's best performances this season have come since the summer break, including an equal best finish of P6 at Suzuka and a fightback to eighth in Austin after a slow pitstop cost him a higher finish.
Amid this run of results, Vettel was pressed on whether it had made him reconsider stopping, but the German insisted he had thought "long and hard" about his decision to step away from racing.
"I thought about this decision long and hard and from a lot of angles," Vettel explained. "I find it's a bit sad that we tend to swing so much now [regarding analysis of form].
"I see the benefits of having emotions running high and low rather than just being flat but I think the judging in general, it's a bit too quick.
"We create a hype and too quickly we create like a massive – I don't want to say disappointment and not because of my situation now, the last races versus maybe the mid part of the season – so it's more of a general thing.
"But yeah, I obviously enjoyed the last two races, last couple of races more than I did maybe some in the mid-part of the season, but they have no impact on the decision.
"And if anything it's a great reminder of why I love this sport so much, why I love racing so much.
"I had great races and I really enjoyed them but I also had races that I didn't enjoy so much and I was wishing after five laps to see the chequered flag and it didn't come out.
"So, you still have to find the motivation in that and hang in there. But yeah, I wish that sometimes it just wouldn't swing as high and as low."
---