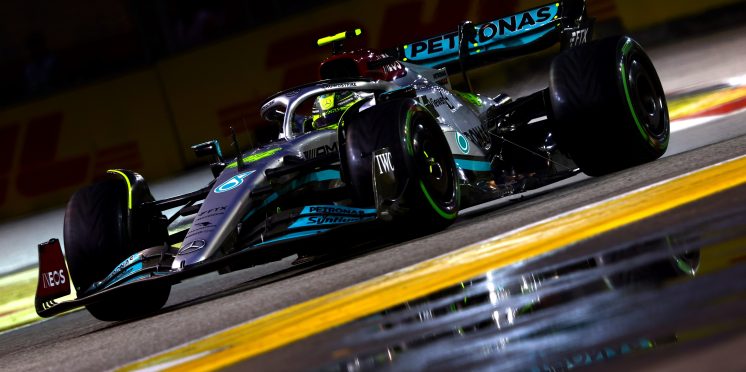 Hamilton thought Singapore GP was possible before lack of grip on final run
Lewis Hamilton says he "just didn't have the grip" on his final qualifying lap to secure his first Formula 1 pole position of 2022 for the Singapore Grand Prix.
Mercedes was hopeful Singapore's street circuit would play more to the W13's strengths before the weekend, and in a wet-to-dry session, Hamilton found himself in contention for pole.
As drivers switched to dry tyres for Q3 with the track in the crossover point, Hamilton set the fastest lap early on, but as conditions improved further, starting your final lap at the right time would be crucial.
While Hamilton was able to complete a final attempt, he was shuffled back to P3 as Charles Leclerc and Sergio Perez pipped his fastest laptime – ending up just 0.054s behind Leclerc.
"I was pushing so hard, it was so, so close. It was trying so hard," Hamilton said. "These guys are always so quick, but I really thought maybe with a perfect lap, which was really hard to get, that we could be fighting for first place.
"I just didn't have the grip in the last lap but nonetheless, I'm grateful to be on the second row. And I'm grateful to the team for continuing to push and we just keep our head down, hopefully tomorrow will be a better day."
Hamilton's third place grid slot for Sunday's marks the first time this season that he has qualified inside the top-three, but the seven-time world champion couldn't hide his frustration that more was on offer.
"We didn't know how close we would be this weekend," Hamilton explained. We knew that the car will be stronger than it was in Monza, but we didn't know how close it would be.
"But to lose out by just that bit…it was just okay. We will just get up and fight again tomorrow."
Hamilton was summoned to the stewards prior to the one-hour qualifying session over breaching F1's jewellery ban, which it has been closely monitoring this year.
It is believed the summons is related to Hamilton wearing his nose piercing, which he claimed afterwards was down to doctors advise after suffering from swelling but no action was taken.
Mercedes was also summoned by the FIA stewards after qualifying over filing an inaccurate self-scrutineering form on Hamilton's car, with the team handed a $25,000 fine.
---