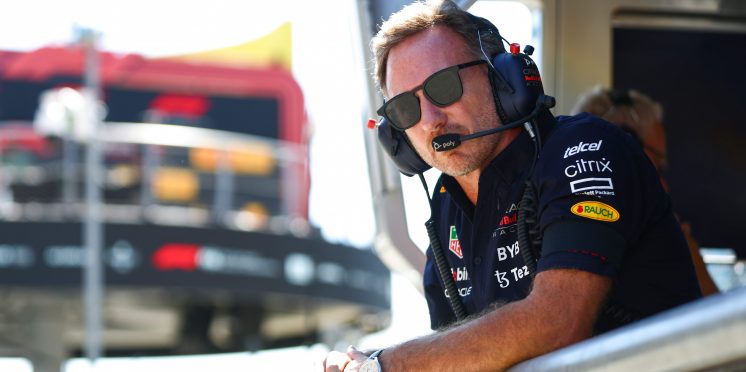 Horner 'not aware' of any breach to F1 cost cap by Red Bull
Red Bull Formula 1 boss Christian Horner insists he is "not aware" of any potential breach by the team over exceeding last year's cost lap limit.
On Friday at this weekend's Singapore Grand Prix, reports surfaced that Red Bull is one of two team rumoured to have spent over the $145m limit imposed for the 2021 season.
F1 introduced a budget cap as a way to prevent teams from overspending, with 2021 being the first season that the rules were enforced.
Max Verstappen went on to claim his first world championship last year after a season-long battle with Mercedes driver Lewis Hamilton, with the fight for the drivers' title going down to the final race in Abu Dhabi.
The FIA is due to release its assessment of each teams finances from the 2021 season before next week's Japanese Grand Prix, but when asked if Red Bull had breached the cap, Horner stressed the team had complied with the regulations.
"The accounts were submitted way back in March," Horner told Sky Sports F1. "So it's been a long process with the FIA, going through and we're in that process as we speak, so they're rightly following that process. I think mid-next week is when they declare their certificates.
"I think that certainly our submission was below the cap and it's down to the FIA, obviously, to follow their process, which they're currently doing."
"Every team, theoretically, is subjected to it so they will have looked at every team's submitted account. So they're following a process and that conclusion date has been moved from July to September now to October but it's a big job. It's a lot for them to get through."
The FIA's financial regulations state that in the event of a breach, penalties of both financial and sporting instances can be applied.
Depending on how serious the breach is, penalties can range from a fine, docking drivers or constructors points, restrictions on aero testing, to, at worst, exclusion from the championship.
"I think there's always going to be rumours," said Horner. "I've heard of major breaches or whatever, I'm certainly not aware of that."
The controversy follows teams raising concerns earlier this year that they would not be able to meet the 2022 cost cap due to rising costs in travel and exporting equipment, which led to a compromise to increase the original $140m by £3m limit to ease pressure on teams.
Horner said the complexity of the rules around the budget cap was bound to cause confusion, as he reaffirmed his position that Red Bull was "very confident in our submission" over its spending from 2021.
"Inevitably it's a brand new set of regulations and a set of very complicated regulations," said Horner.
"So how rules are interpreted and applied, inevitably you're going to be subjected between the teams. I'm sure as the years go by things will get tidied up but we're confident in our submission and as I said the FIA are in a process.
"You have to remember this is the first time this has ever happened. But we do our due diligence, we get audited anyway, it's a similar process, to that of working with an auditor. It's slightly bespoke to Formula 1.
"Clarifications have been coming even after the submissions were made so you can see how immature the process is. But the FIA obviously been working hard on it and doing the best they can."
---