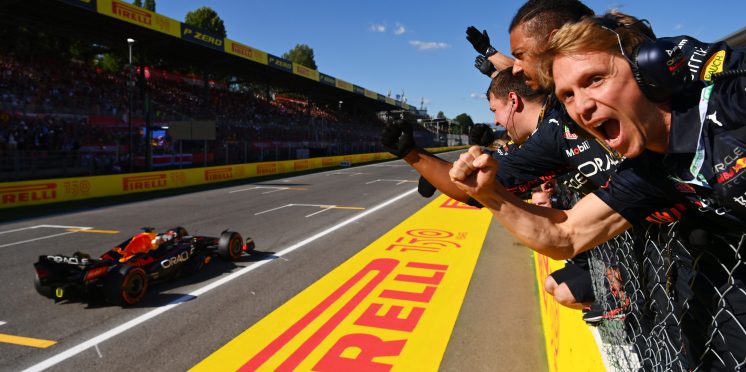 Horner: Winning last six races in 2022 a 'massive ask' for Red Bull
Red Bull team boss Christian Horner believes it will be a "massive ask" for his team to win all of the remaining races this season, despite its dominant run of form.
Max Verstappen's five consecutive victory at the Italian Grand Prix has put him within touching distance of securing this year's drivers' championship, with an opportunity to wrap up the title in Singapore.
Verstappen has won 11 races this year, eight more than any of his rivals, and with Red Bull's recent performance edge, he could go on to end the season without being beaten again.
Seven-time world champion Lewis Hamilton fears this could be the case, admitting after Monza that Mercedes would need some luck to beat Red Bull in a straight fight.
But Red Bull chief Horner is more cautious about its chancers of pulling off the feat, insisting the difference in circuit layouts over the coming races will make it difficult to accomplish.
"That's a massive ask and [there is] some huge variance of circuits," Horner said, as quoted by Motorsport.com.
"Singapore compared to Monza, it's got the most corners on the calendar. It's bumpy, it's a street track, so it's a much different challenge.
"We're in a great position in the championship. But we're going to attack every race and do the best we can, then the points will take care of themselves.
"But you know, we've been quick at Spa, Zandvoort, Monza and Budapest even. So on a variance of circuits, the car's performing really well."
Red Bull had a clear advantage in straightline speed over the triple-header at Spa, Zandvoort and Monza, but expects it to be less of a factor in Singapore.
Ferrari and Mercedes have already talked up their chances of being more competitive around the Marina Bay Circuit, and Horner reckons it will arguably be Red Bull's toughest weekend over the final six rounds.
"It should be one of the harder races I would say," he said.
---