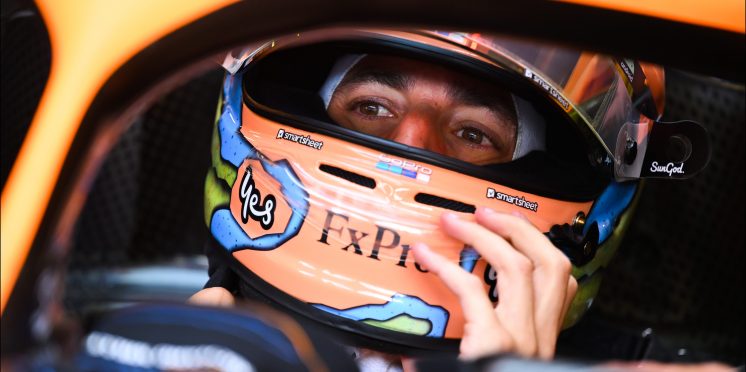 Ricciardo 'totally okay' with taking potential F1 sabbatical next year
Daniel Ricciardo says he is prepared to spend a year on the sidelines out of Formula 1 in 2023, asserting he won't jump into a car just "for the sake of it".
Ricciardo is without a drive for next year after mutually agreeing to terminate his contract with McLaren one year early to pave way for new signing Oscar Piastri.
While Ricciardo has been open about his desire to remain on the F1 grid next season, his options of finding another seat are fading.
The Australian has been linked with a return to Alpine – where he drove for two years in 2019 and 2020 – and is believed to have held talks with Haas, but Ricciardo doesn't appear to be high on either team's list of potential candidates.
Speaking after last weekend's Italian Grand Prix, Ricciardo admitted to accepting the possibility of taking a year out of F1 next year.
"I've certainly accepted, if I'm not to be on the grid next year, I'm okay with that," Ricciardo said, as quoted Crash.net.
"So I've accepted that I'm not going to do everything, or my [management] team's not going to do everything, just to put me on the grid if it's not right or it doesn't make sense.
"Obviously this year's been challenging and if I am on the grid, I want to know that it's a place that I can enjoy it and feel like I can thrive. An environment I feel I can thrive in.
"I don't want to just jump into a car for the sake of it."
Ricciardo's difficult 2022 season was inflicted further by a late retirement at Monza while running in a points position, stretching his point-less streak to four races.
The eight-time grand prix winner plans to use the three-week break before the next race in Singapore to consider what he wants to do in 2023.
"Days like this certainly are pretty frustrating, but give it 24, 48 hours and I'll get over it and try to understand what's best for next year," Ricciardo said.
"Not in an overconfident or cocky way, but if it's not meant to be, then I'm totally okay with that. I'm not going to be too proud.
"We haven't certainly given up on it, but that's kind of where my head's at, at the moment."
---