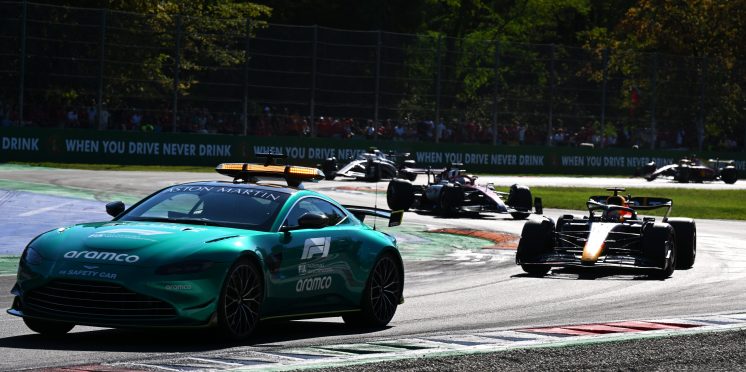 Horner: Safety car finish at Monza goes against F1's principles
Red Bull team boss Christian Horner says the safety car finish in Sunday's Italian Grand Prix goes against Formula 1's principles, suggesting a red flag would have been more appropriate.
A late safety car to retrieve Daniel Ricciardo's McLaren between the two Lesmo corners could not be cleared in time for any more racing laps to take place, a decision that has drawn wide criticism.
While the FIA explained why marshals were unable to recover Ricciardo's car quicker to avoid the race finishing under the safety car, it insisted the situation did not require a red flag stoppage.
This meant Max Verstappen went unchallenged in the final laps, preventing Ferrari's Charles Leclerc the opportunity to fight him for victory.
Acknowledging the fans displeasure in the grandstands when it became clear a restart would not happen, Horner felt it went against what the teams have long discussed to ensure races do not end behind the safety car.
"I think there's always lessons to learn," Horner said, as quoted by Motorsport.com. "But it goes against the principles of what we discussed, that it's not good to finish races under safety cars.
"If they would have known they couldn't get it going, they should have red-flagged it and restarted. But obviously that didn't happen."
While Horner doesn't see the need to enforce mandatory red flags in the sporting regulations, he was clear the FIA must improve its procedures after a delay in picking up the leaders.
"I think that one could have been sorted out in the time, to be honest with you," he said. "I think it was a case of picking up the wrong car.
"The safety car didn't pick up a leader and then that caused a huge delay for them to have to catch up and then the released cars to catch up.
"I think you could have at least got one racing lap in there. Most probably two."
The handling of the safety car period has prompted debate over if a solution needs to be found to ensure races finish under a green flag.
According to McLaren team principal Andreas Seidl, despite lengthy talks between teams before the 2022 season, they could not agree on a way to improve the procedure.
A meeting between FIA president Mohamed Ben Sulayem and F1 team bosses was held on Monday to discuss topics related to on-track matters, which Horner suspected would include the events of Monza.
"The president is getting involved in that as well, to talk about certain aspects," Horner said. "I'm sure this will be now near the top of the agenda.
"It is to try and get a lot of issues on the table. But we need to avoid scenarios like we had at the end of the race."
---