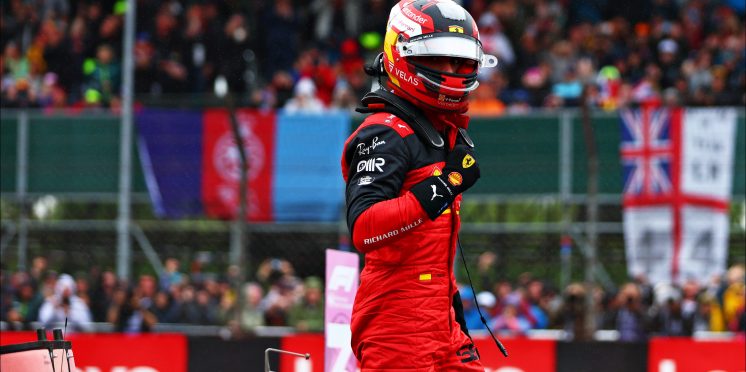 Sainz surprised by maiden F1 pole after Q3 lap wasn't 'special'
Carlos Sainz says his first Formula 1 pole position came as "a bit of a surprise" in a wet qualifying session for the British Grand Prix, conceding his lap was far from "special".
A rain shower arrived just moments before the start of Q1, which left the drivers tackling a wet circuit throughout the one-hour session.
The difficult conditions meant everyone was trying to set a lap when the track was at its optimum, as the leaderboard changed frequently in the final stages of Q3.
On his final attempt, Sainz soared to the top of the timesheets by just 0.072s, eclipsing Max Verstappen who had finished fastest in the opening two segments.
Sainz admitted he was shocked his lap had been good enough to secure his maiden pole ahead of his 150th grand prix start on Sunday.
"It was a good lap, but I was struggling a lot with the standing water on the intermediate, there was a lot more standing water, even on the racing line, and it was very easy to get snaps and lose the lap" Sainz said.
"It was also more difficult to get temperature into this intermediate for this condition.
"In the end I put together a lap that I didn't think was that special just to be on the board and it was pole position which came as a bit of a surprise."
Sainz's heroics see him become only the second Spanish driver to claim a pole position, and he believes Ferrari has the pace for him to chase a first victory at Silverstone.
"I think so," he said. "The pace has been there all weekend, except for FP3 where we had some issues that we that we think we have corrected for qualifying, but if I base myself on my FP2 pace then we should be in a good position to try and hold on to it.
"I'm sure Max and Charles will put a lot of pressure on, but I will try my best of course."
Sainz's Ferrari team-mate Charles Leclerc saw his chances of a seventh pole of the season come undergone by a spin on his final effort, but the Monegasque remains upbeat about his race chances.
"Yeah I am, but happy for Carlos. He did a great job today," Leclerc said.
"I spun in that last lap, I knew it was the lap where I had to put everything together and I didn't as a driver, so I didn't deserve to be on pole.
"But P3 is still a good position to start tomorrow's race. And hopefully, putting everything together, we can come back.
"It will be interesting to see whoever is going for one stop or two stops, but hopefully we will make the right choice and we can come back to where we want to be."
---