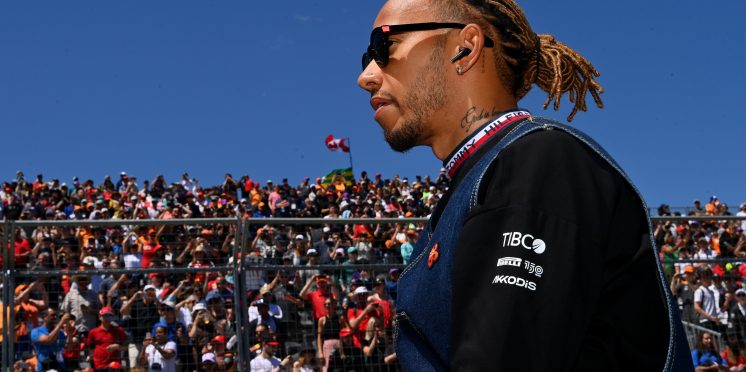 Piquet issues apology over 'ill thought' racist slur to Hamilton
Ex-Formula 1 driver Nelson Piquet Sr has apologised for the comment he made about Mercedes driver Lewis Hamilton, but has strongly denied any racial intent.
A clip from an interview Piquet gave last year surfaced across social media on Tuesday, in which the three-time world champion used a radical slur against Hamilton when speaking about his crash with Max Verstappen at the 2021 British Grand Prix.
In light of the comments, F1, the FIA and Mercedes all issued statements condemning Piquet's language whilst also praising Hamilton's continued efforts  to making the sport more diverse and inclusive.
Hamilton reacted to the news via his personal Twitter account, insisting changes were needed to shift "archaic mindsets".
On Wednesday, Piquet issued his own statement moving to clarify the term he used about Hamilton before dismissing suggestions he intended to racially abuse the seven-time world champion.
"I would like to clear up the stories circulating in the media about a comment I made in an interview last year," Piquet said.
"What I said was ill thought out, and I make no defence for it, but I will clarify that the term used is one that has widely and historically been used colloquially in Brazilian Portuguese as a synonym for 'guy' or 'person' and was never intended to offend.
"I would never use the word I have been accused of in some translations. I strongly condemn any suggestion that the word was used by me with the aim of belittling a driver because of his skin colour.
"I apologise wholeheartedly to anyone that was affected, including Lewis, who is an incredible driver, but the translation in some media that is now circulating on social media is not correct. Discrimination has no place in F1 or society and I am happy to clarify my thoughts in that respect."
According to reports, as a result of his comments Piquet will not be allowed back in the F1 paddock as of this weekend's British Grand Prix.
The Brazilian won three world titles in 1981, 1983 and 1987, driving for the likes of Brabham, Williams, Lotus and Benetton before retiring at the end of the 1991 season.
---