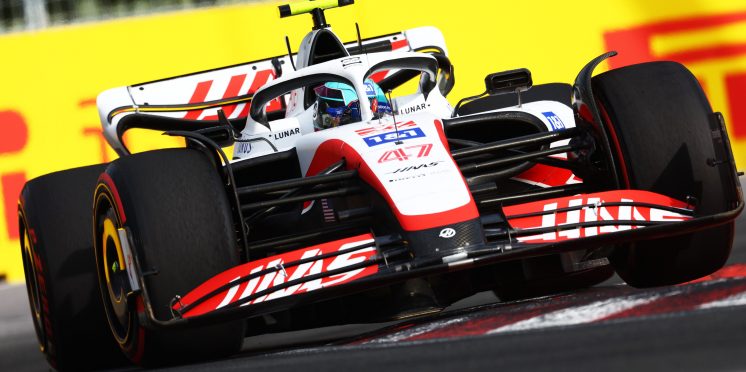 Schumacher: Latest setback won't dampen spirit amid bid for first F1 points
Mick Schumacher says his latest setback in his ongoing quest to score his first Formula 1 points is "tough to accept", but is refusing to let it dampen his spirits.
Schumacher went into last Sunday's Canadian Grand Prix on a high after securing his best-ever grid slot in a rain affected qualifying session, lining up sixth behind Haas team-mate Kevin Magnussen.
Having kept out of trouble in the opening laps, Schumacher looked on course to bag his maiden F1 points, only to suffer a power unit issue that forced him to retire on Lap 18.
The German's frustration was clear as his wait for a top-10 finish goes on, but speaking after the race, Schumacher insisted there was plenty of positives to take from Montreal.
"It's obviously very frustrating but these things happen," Schumacher said, as quoted by Motorsport.com. "It's F1, everything is quite on edge.
"And so yeah, we have just got to swallow that pill. But we have loads of positive things we can take away from here. So yeah, I'm just really excited about the next one."
Asked if his motivation had taken a hit by his latest heartbreak, Schumacher said: "I'm here because I love this sport. I love driving and you earn what you fight for.
"Unfortunately we didn't earn it today. But I'm sure that we will have more opportunities.
"Eventually luck will change hopefully. So yeah, it's obviously tough, but I've had these seasons in the past and we've managed to be there after all. So yeah, we have a few more races to go."
Schumacher revealed he was beginning to up his pace prior to his engine woes, as he tried to explore the limits of the Gilles Villeneuve Circuit in very different conditions to qualifying the previous day.
"I was building up to it," he said. "Obviously, we've had a wet track in qualifying, we had a dry track in the race.
"So obviously I was trying to find the new grip limit when conditions were very different. We were just getting into a rhythm and I'm sure there was more to come.
"It's always tough to accept these things. Obviously, it's probably tougher if you are in a points-paying position, and have to retire the car when you are seventh or whatever. It's never the best, but it's what it is."
---