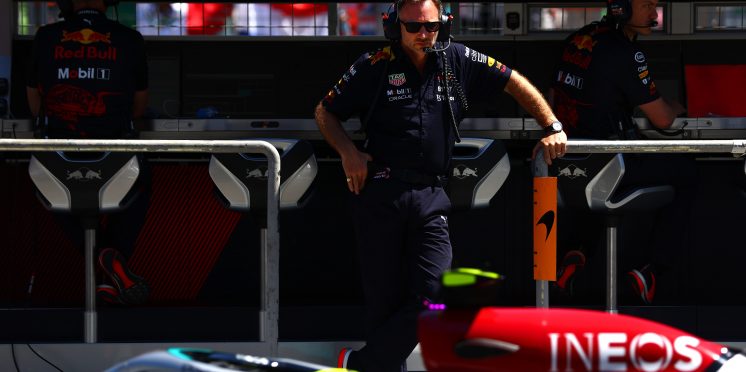 Mercedes car concept to blame for porpoising, not 2022 rules, says Horner
Red Bull team boss Christian Horner believes Mercedes has only itself to blame for the porpoising issues it has faced, rather than pointing fingers at this year's Formula 1 rules.
Mercedes went to Canada off the back of suffering severe bouncing during the Azerbaijan Grand Prix weekend, which left driver Lewis Hamilton in pain and needing recuperation before arriving in Montreal.
Following several complaints from drivers, the FIA acted by issuing a technical directive outlining how in planned to tackle the problem, but this has caused a divide amongst the teams.
Horner and Ferrari team principal Mattia Binotto were reported to have confronted Mercedes F1 chief Toto Wolff about exaggerating the team's problems to try and push for a mid-season rule change.
Wolff was heavily critical of rival team bosses for putting politics ahead of driver safety, claiming they had been "pitiful" and "disingenuous" about the matter.
But Horner has a clear view that Mercedes' issues have nothing to do with the 2022 regulations, stressing it is more down to it going the wrong way on its car concept.
Asked if the porpoising saga had become more political than safety conscious, Horner said, as quoted by Motorsport.com: "The issue with Mercedes is more severe, or certainly has been prior to [Canada] than any other car.
"That surely is down to the team. That's within their control to deal with that, if it's not affecting others.
"I know it was said other drivers have been complaining. Our drivers have never complained ever about porpoising. They've said certain circuits could do with tidying up, perhaps resurfacing in places.
"But we haven't had an issue with bouncing. The problem is they're running their car so stiff. I think their concept is the issue rather than the regulation."
A further debate developed in Canada when Mercedes fitted a second floor stay to the W13 ahead of practice that enraged its competitors, with Horner suggesting the FIA's technical directive was "overtly biased" towards the Brackley-based outfit.
"There is a process of these things to be introduced," he said. "I think what was particularly disappointing was the second stay.
"It has to be discussed in a technical forum, and that is overtly bias to sorting one team's problems out – which were the only team that turned up here with it, even in advance of the TD. So work that one out."
A meeting between F1 teams and the FIA is set to take place this week to try and find a solution to the proposing debate.
Horner, though, isn't sure there needs to be any sudden changes, arguing that teams will likely have the problem under control by next season.
"You've got some of the brightest engineering talent in the world, and things will converge," Horner said.
"I doubt we'll be sitting here next year talking about the bouncing, even if the regulations are left alone.
"These cars are still relatively new, I think as teams add developments to their cars, you'll probably start to see them start to address some of these issues. And you can't just suddenly change technical regulations halfway through a season.
"If a car is dangerous, a team shouldn't field it: it has that choice. Or the FIA, if they feel an individual car is dangerous, they always have a black flag at their disposal."
---