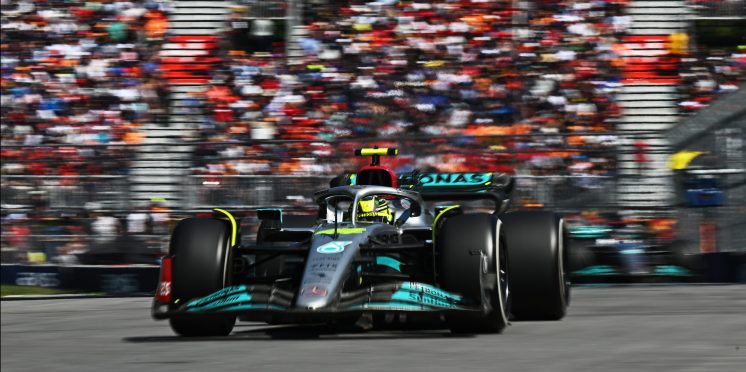 Hamilton 'ecstatic' at Mercedes progress after Canada F1 podium
Lewis Hamilton was left "ecstatic" at securing a podium finish in Formula 1's Canadian Grand Prix, hailing Mercedes' performance after its recent struggles.
Hamilton hopes of mounting a championship challenge this year have been hit when it became clear Mercedes were not in a position to fight for race wins early on in the season.
The team's ongoing battle to tame the proposing and bouncing on the W13 has put it far off the pace of Red Bull and Ferrari, but its form in Montreal suggests it has made further gains.
Hamilton secured only his second top-three finish by finishing third behind race winner Max Verstappen and Carlos Sainz, and believed the result was a real boost for Mercedes given the pain it has suffered this year.
"It's quite overwhelming, honestly, to get this third place," said Hamilton.
"It's been such a battle this year with the car and as a team. But we continue to stay vigilant and focused and never giving up.
"That's something I'm so proud of, and I'm inspired by my crew. So thank you to everyone that's here and back at the factory."
While Hamilton was unable to pose a real threat to the top two throughout the 70-lap event, he was upbeat about the pace Mercedes had shown compared to previous races.
"They're a little bit too quick for us at the moment," Hamilton conceded. "I was giving it everything but we're getting closer. So we've just got to keep pushing. Hopefully will be in a fight with these guys."
In a renewed effort feel more comfortable in his Mercedes, Hamilton ran a new floor and set-up in practice on Friday, which the seven-time world champion later dubbed a "disaster".
But having netted his best qualifying performance of 2022 and first podium since the opening race in Bahrain, Hamilton hailed the efforts of his team to turn around his weekend.
"Honestly, our pace was quite good, particularly in the second phase of the stint," Hamilton said.
"We did a lot of work back in the simulator but also here to get the setup right. So honestly, I'm ecstatic.
"I didn't expect this coming into the weekend. It's my second podium of the year. So this feels really special, especially where I got my first grand prix win."
---