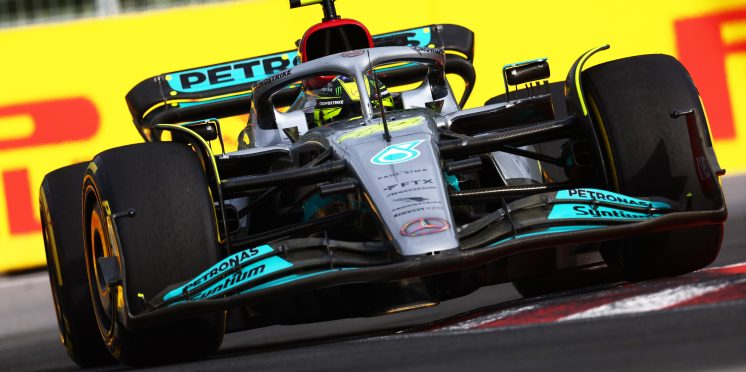 Hamilton: Mercedes F1 car 'getting worse' after latest set-up experiments
Lewis Hamilton admits his Mercedes Formula 1 car feels like it is "getting worse" after his latest set-up experiment during practice for the Canadian Grand Prix.
Hamilton has been left struggling to extract performance from the W13 this year, culminating in his worst start to a season in the V6 hybrid era.
In the opening practice session in Montreal, Hamilton sampled an experimental floor but chose to remove it for FP2 when he tried out a completely different car set-up to team-mate George Russell.
But after finishing down in 13th place, Hamilton spoke of the difficulties he was facing around the Circuit Gilles Villeneuve, labelling the day as a "disaster".
"Nothing we do to this car generally seems to work," Hamilton said. "So we're trying different set-ups.
"Me and George went with much different set-ups in FP2 just to see if one ways works and one way doesn't. I'll wait to hear how it was for him, but for me it was a disaster.
"It's like the car is getting worse, like it's getting more and more unhappy the more we do to it. We'll keep working on it and it is what it is, [as] I think this is the car for the year.
"We just have to tough it out and work hard on building a better car for next year."
Hamilton, who is the joint holder for the most wins by a driver in Canada, felt the scene of his first F1 victory back in 2007 was the worst he's driven amid his ongoing struggles.
"It's not the Montreal that I know, that I'm used to, and that I've experienced in my career," Hamilton said. "It's the worst that I've ever felt in any car here.
"So I'm hoping overnight, we can try and make some changes. But fundamentally, it's just the fundamentals of a car: it is what it is. And it's going to be a struggle."
Russell, who finished seventh in the afternoon session, was clear Mercedes hadn't got the most out of its package so far after finding itself more than eight-tenths off the pace from the frontrunners.
"Our performance wasn't where we wanted it to be," Russell said. "We're quite a long way off the pace compared to the front two teams. But also, there's a couple of guys – Fernando [Alonso], and Sebastian [Vettel] – that are very strong as well.
"So we've got work to do."
---