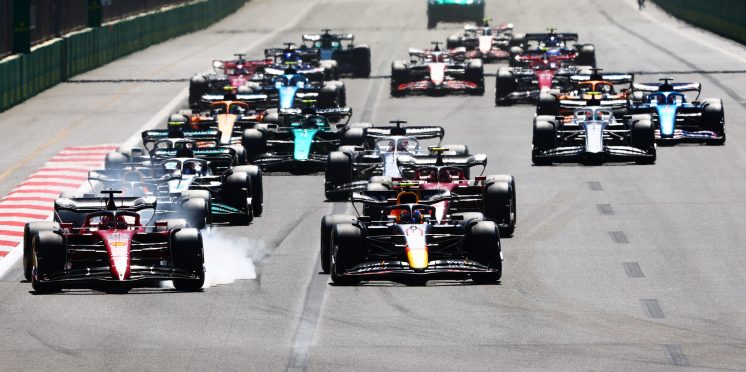 Steiner: FIA's response to porpoising could see different F1 order
Haas Formula 1 boss Gunther Steiner believes the FIA's renewed stance on porpoising could "change the pecking order again completely" after recent complaints.
The phenomenon porpoising has been a present feature on this year's F1 cars since they rolled out in pre-season testing due to the raft of rule changes introduced for 2022.
Following last weekend's Azerbaijan Grand Prix, where Lewis Hamilton was left with back pain due to suffering severe bouncing on Baku's straights, the FIA has stepped in with new measures designed to tackle the issue head on.
F1's governing body issued a technical directive outlining how it plans to eradicate the effect of proposing and bouncing that has seen drivers voice their concern that it could impact their health if it continues.
Part of the FIA's plan will be to reduce the vertical motion drivers are subjected to, with a closer inspection on car floors from this weekend's Canadian Grand Prix.
Steiner backed the new measures put in place but stressed teams who are more prone to proposing could avoid the problem by simply not running their car as low.
"We need to measure what it is," Steiner said, as quoted by RaceFans. "And I think some of the cars are pretty bad.
"But then there is a solution, just raise the ride height. But then you go slow. Who wants to go slow?"
Speaking in Baku, Red Bull team principal Christian Horner had hoped growing calls to address the issue would not lead to a mid-season rule change, especially as it could hurt teams who have not been affected.
Steiner reckoned something like this could have a drastic impact on the current pecking order, citing back to the tyre change halfway through the 2013 season as an example.
"It's like, I don't know how many years ago, when in the middle of the season we had the change of tyres," he said.
"Something like this, you change something fundamentally, you could change the pecking order again completely. Is that really fair?"
He added: "Yes, it's a safety factor, but that could be approached as well. If it is too dangerous, just raise your ride height.
"I think the measurement of this is to find a way where, if it is dangerous, without changing the regulations, to find a limit of something and saying if you are above this threshold [you get a penalty]. I don't know what penalty you could give, I have no idea yet, I didn't look into it as well and it's pretty fresh all these things."
Mercedes has struggled to tame the porpoising on its 2022 car that has resulted in its drivers left feeling discomfort, which the team admitted after Baku it had pushed "too far".
While Mercedes' complaints could be perceived as trying to lobby the FIA into making a rule change, Steiner doesn't believe this is the case.
"You know how malicious we are, we always think there's something behind it," Steiner said. "And then the next one could say, 'oh, they've got already a solution for a solution', if the FIA comes up with a change and then Mercedes has developed something in that direction already, and then they come out of the gate already running. But I think that is going a little bit too far."
---