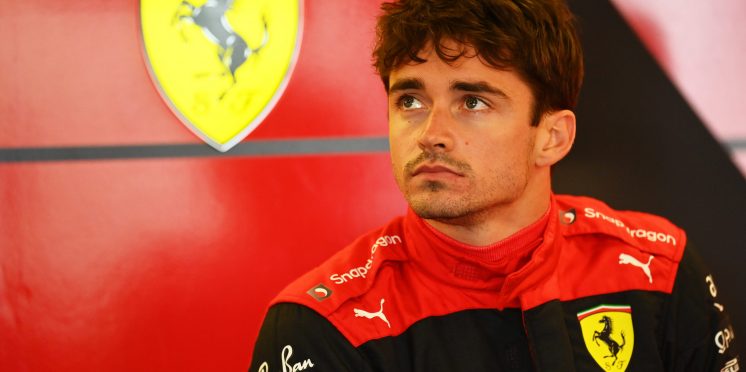 Ferrari pondering grid penalty after Leclerc's Baku engine 'beyond repair'
Ferrari has revealed Charles Leclerc's blown Formula 1 engine from Azerbaijan is "beyond repair" which could see the Monegasque driver take a grid penalty for this weekend's Canadian Grand Prix.
Leclerc was leading in Baku after making his pitstop before the virtual safety car only for his power unit to expire on Lap 20.
It marked Leclerc's second retirement in three races, leaving him 34 points behind championship leader Max Verstappen having held a 41-point lead after the sprint in Imola.
The power unit Leclerc ran in Baku was a refurbished version of the engine he ran in Spain before he broke down while leading, which Ferrari believes could have instigated this fresh failure.
"[An] investigation confirmed Charles' Baku PU is beyond repair," Ferrari confirmed in a statement.
"One possible cause of the failure is that it occurred as a consequence of the PU problem in Spain.
"We are now working on countermeasures to strengthen the package and the situation is under control."
Now that the engine is a right off, Leclerc is on the verge of an automatic 10-place grid penalty having used all three of his permitted turbochargers.
Speaking at the Gilles Villeneuve Circuit, Leclerc said, as quoted by Motorsport.com: "Obviously we are not in the best situation possible."
Asked if Ferrari was weighing up a possible grid penalty in Canada, he added: "Then for the power unit change, I think there are still ongoing discussions.
"For now, no decision is taken. But yes, it's not the best position to be in."
Canada is known to offer a few overtaking opportunities for drivers starting at the back of the grid due to its long straights and three DRS zones, with Sebastian Vettel going from last to P5 in 2015.
"It's up to us to choose the best track where you want to get a penalty, if you get a penalty," Leclerc said.
"This is one of the tracks where it is quite easy to overtake, but there are also tracks in the next three or four races where it's quite easy to overtake too.
"So, we'll discuss and try to take the best decision from there."
---