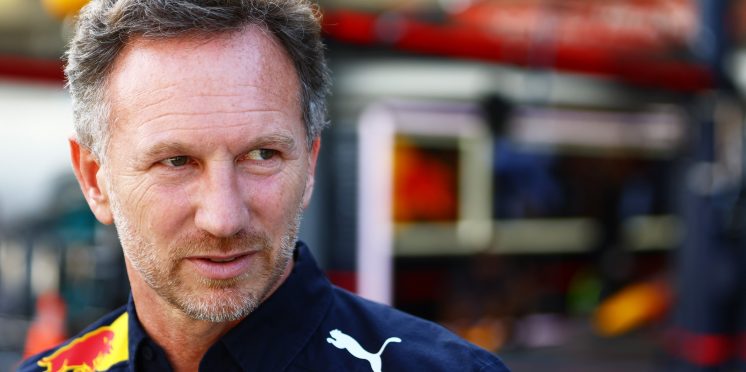 Horner: Rivals pushing for rule change by exaggerating porpoising concerns
Red Bull Formula 1 boss Christian Horner believes rival teams are telling their drivers to exaggerate concerns over porpoising in a bid to force a rule change.
This year's new technical regulations have exposed severe bouncing in the 2022 cars, which had led to calls for the issue to be addressed from a safety perspective.
Mercedes driver George Russell's comments over "conversations" needing to take place over the matter came before team-mate Lewis Hamilton suffered with back pain in Sunday's Azerbaijan Grand Prix.
The seven-time world champion spoke of the agony he endured during the race, admitting he was relieved to see the chequered flag – with Mercedes boss Toto Wolff fearing his driver may not be fit for this weekend's Canadian Grand Prix.
But when asked about his take on the severity of porpoising in Baku, Horner suggested some outfits were making a bigger deal of the matter to prompt the FIA to consider a rule tweak.
"I'd tell them to bitch as much as they could over the radio and make as big an issue out of it as they possibly could," said Horner, as quoted by RaceFans. "It's part of the game. It's like somebody [diving] in a penalty box."
Asked if he felt this was something its rivals were doing,Horner replied: "Of course it is."
Horner felt it was easy to complain by raising the severity of the bouncing as a safety issue, insisting sacrificing car performance was one solution to fixing the problem.
"You can see it's uncomfortable," Horner conceded. "There are remedies to that but it is to the detriment of the car performance.
"So what the easiest thing to do is to complain from a safety point of view. But each team has a choice."
Horner argued it would be unfair to penalise teams who are not suffering with porpoising by introducing a mid-season rule change to compensate for others who have "missed the targets slightly".
"If it was a genuine safety concern across the whole grid then it's something that should be looked at, but if it's only affecting isolated people or teams, then that's something that team should potentially deal with," he said.
"You have a choice when you run your car, don't you? And you should never run a car that's unsafe. But I think that's more for the technical guys, because certain cars have issues and there's some cars that have very few issues.
"It would seem unfair to penalise the ones that have done a decent job versus the ones that have perhaps missed the targets slightly."
---