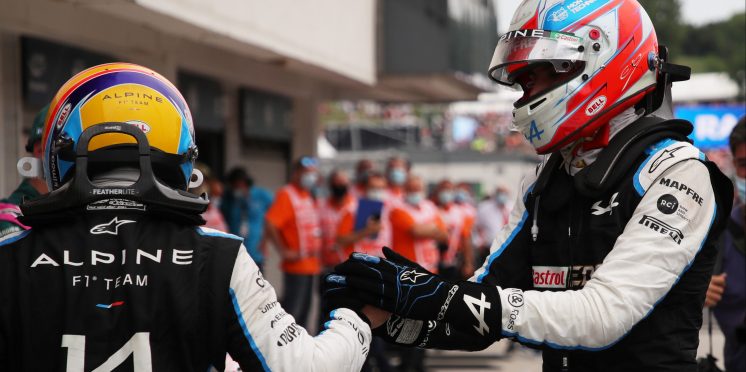 Ocon: Privilege to learn from Alonso in first year as team-mates
Esteban Ocon says he learned "quite a lot" from Fernando Alonso in their first season as team-mates at Alpine, calling it was a "privilege" to use the Spaniard as a reference.
Alonso returned to Formula 1 in 2021 after a two-year spell, partnering Ocon at the rebranded Alpine team.
The partnership turned out to be successful, with Alonso's defensive masterclass to keep Lewis Hamilton behind at the Hungarian Grand Prix playing a key role in Ocon's shock maiden victory.
Ocon would return the favour later in the year in Qatar as Alonso held off Sergio Perez to secure his first podium since 2014.
The pair proved evenly-matched over the course of the season, helping Alpine to a fifth place finish in the constructors' championship.
Asked about his relationship with Alonso, Ocon felt having the two-time world champion alongside him allowed him to raise his game as a driver.
"For sure he is a hell of a racer and is extremely fast, and the fastest teammate that I've had for a while," Ocon said, as quoted by Motorsport,com.
"I was very happy to work alongside him, but I have learned a lot alongside him. I think just the way Fernando thinks out of the box where some other drivers would not think about.
"It is pushing the limit to strategies on how we can optimise everything, so on that regard, I have definitely learned a lot. Also on racecraft, I think I have picked up quite a lot of things from him, looking at his first laps, it is something that I've always been doing.
"I've always been following what he has been doing and towards the end of the year I was only gaining positions not losing any and I was doing great first laps.
"So, I think it is a privilege to be working alongside a legend like him."
Ocon's pace from the get-go earned praise from Alonso, saying it helped him get up to speed in his first season back since 2018.
Alonso ended up having a slight upper-hand over Ocon in the final standings, outscoring the Frenchman by just seven points over the 22 races.
"I did put him as a reference in the beginning of the year, and I was happy to see that I was matching him in terms of pace and we were pushing each other," Ocon said.
"That in the end gave the team the maximum that we could have. We were extracting the maximum out of the package most of the time, so that was good."
---