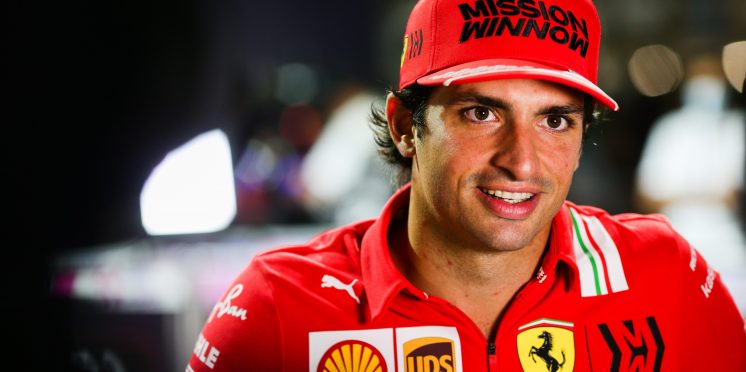 Ferrari expects straightforward talks with Sainz over contract extension
Ferrari Formula 1 team principal Mattia Binotto says he expects to have an "easy discussion" with Carlos Sainz in regards to extending his contract at the team.
Sainz made the switch to Ferrari from McLaren to replace outgoing four-time world champion Sebastian Vettel, and enjoyed a successful first season at the Italian outfit.
Four podiums paved way to a fifth place finish in the drivers' standings and, together with team-mate Charles Leclerc, Sainz helped Ferrari secure third place in the constructors' championship.
Following Sainz's impressive first year for the Scuderia, Binotto said he planned to hold talks with the Spaniard about his future over the winter.
Expanding on his planned sit-down with Sainz, Binotto made clear of his desire to secure his services for the long-term.
"As we said I think in the last race, we will discuss through the winter time the extension of his contract," Binotto said in an end-of-season media call, as quoted by Motorsport.com.
"We'll sit down with time and try to understand. Certainly I think he did very well during the season, [we are] very happy the way that he has integrated, the way that he has been performing on-track and during the race weekends.
"So no doubt that we'll sit down and try to find an agreement. That will be part of the winter period."
Ferrari is no stranger to agreeing a contract extension with its drivers having signed Leclerc on a multi-year deal until the end of 2024 at the end of the 2019 season.
Binotto admitted he was yet to sit down face-to-face with Sainz to discuss terms of a new deal, but believed negotiations would be straightforward.
"I would like to sit down with him, I've not started yet the discussion with him," Binotto said.
"I don't know what he's got in mind as well as him, Carlos, as a driver. So today, there is not an answer to that.
"First I would like to understand how he's pleased, have a review of him with the season and look together to the future.
"It will be, I think, an easy discussion, no doubt. But so far we have not started, so I have no answer for you."
---