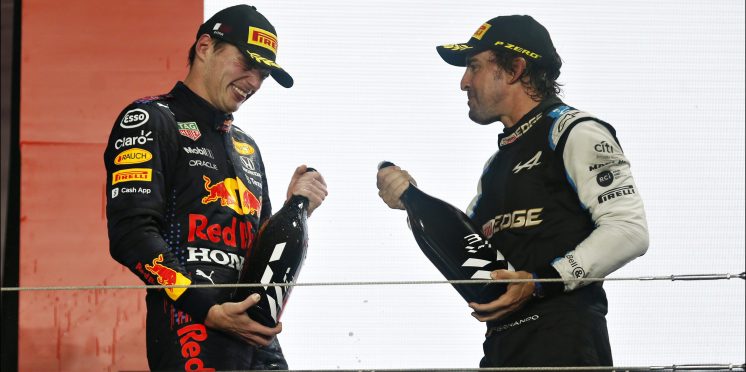 Verstappen hopes to battle 'real fighter' Alonso in 2022
Formula 1 world champion Max Verstappen has revealed his admiration for two-time title winner Fernando Alonso, believing he deserves the chance to race at the front again.
Alonso made a welcome return to F1 after a two-year spell away racing in separate motorsport series this year, driving for Alpine in the midfield pack.
The Spaniard took a few races to get up to speed before showing he'd lost none of what made him a double world champion, securing his first podium since 2014 at the Qatar Grand Prix.
Alonso ended the season with a top-10 finish in the drivers' standings, marking the only the second time in the V6 hybrid era he has finished tenth or higher in the world championship.
Keeping an eye on Verstappen's season-long title battle with Lewis Hamilton, Alonso praised the Red Bull driver throughout the year, saying it was "only a matter of time" until he won a drivers' crown.
After winning this year's title, Verstappen was asked if there was any driver on the current grid he felt was similar to himself in terms of driving style and approach.
"At the moment, I have a really good friendship with Fernando," said Verstappen in an interview with sponsor CarNext.
"Because already when I was still karting, I really liked his style. He's also that never give up [type] and a real fighter.
"Of course, unfortunately, for the last few years, he hasn't been able to do that at the front, just because he doesn't have the car.
"But I like his attitude, he's really on fire. And also his drive and motivation at his age to still be there in Formula 1, and wanting to be there for a longer time.
"He always wants to win, he always wants to do his best. For me, it's really nice to see."
Alonso has made no secret the main factor behind his F1 return is the chance to fight for a third world championship under the major technical regulation changes arriving next year.
Alpine activated its option to retain Alonso for a second season having been impressed by his performances, and has hinted at extending his contract further.
Verstappen is eager to see Alonso amongst the frontrunners in 2022, but stressed there relationship off-track would be a "different story" should he become a title contender.
"But we will still be respecting each other a lot," Verstappen said.
"I would like to see him back at the front, he really deserves it. And of course he's a two time world champion.
"But it's also really nice just to talk to him and see how he thinks about situations."
---