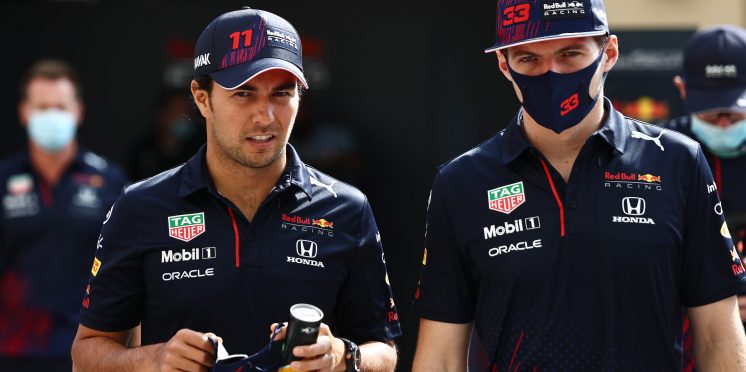 Perez: Verstappen pushed me to 'new level' in 2021
Sergio Perez says newly-crowned Formula 1 world champion and Red Bull team-mate Max Verstappen pushed him to raise his game this year.
Perez found it a struggle to feel at home in the RB16B for much of the season having made the switch from Racing Point, and faced the difficult task of matching Verstappen's pace – something previous Red Bull drivers were not able to do.
A victory in Baku and a further four podiums saw him end the year fourth in the world championship for a second successive season, but with less than half of Verstappen's points tally.
The Mexican's previous experience of racing for a championship-winning team proved tough, when he spent just one season at McLaren in 2013 before being dropped.
Perez admits the pressure to deliver results hasn't always been easy this year, but believes it has ultimately driven him to be a better driver.
Asked to sum up his first year at Red Bull, Perez said, as quoted by Motorsport.com: "Very intense. It's been extremely intensive. A lot of work has been done behind the scenes, a lot of pressure.
"When you are at Red Bull Racing the pressure is on and everyone is watching you, what you do and you guys are obviously a lot harder to a Red Bull driver, which is very understandable.
"But it hasn't been easy, but it has brought me onto another level, and having Max as a teammate it really pushes you to new levels. I'm enjoying it a lot at this point of my career, I'm very happy, and that's the most important."
Perez often struggled to match Verstappen's performances throughout the season, only out-qualifying the Dutch driver twice in 22 races.
But Perez has recognised Verstappen's brilliance behind the wheel on route to his first world title, making it clear how strong he is as a package.
"He's really good. He's really at one with the car. He's very good in qualifying, he's really good at the races," Perez added.
"He's very complete, experienced. I mean, the season he has done I think it's been legend, you know, it's really impressive, and big praise to him. He's really at one with the car."
Perez acknowledged he ultimately lacked consistency in 2021, and already has an eye on improving this area for next year ahead of F1's regulation changes.
"When you are out of position and so on… I think the main thing I lacked was consistency to constantly be at 100% with the car," Perez said.
"I have to raise my game for next year. And yeah, hopefully, we are all able to go forward."
---