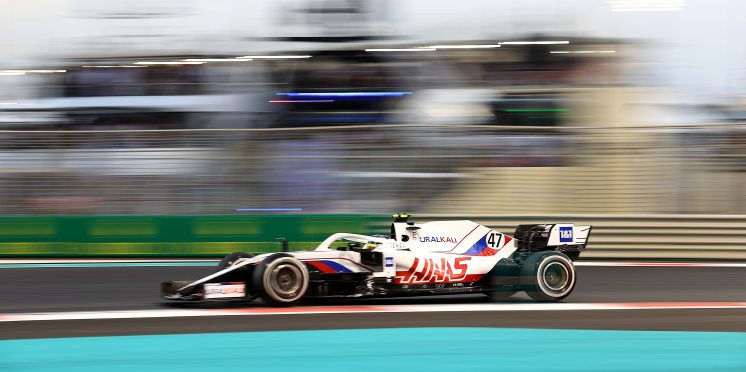 Haas' 2022 F1 car passes mandatory crash tests
Haas has announced its 2022 Formula 1 car has passed the mandatory crash tests, leaving it firmly on track to have its new challenger ready for next season.
The American outfit comes off the back of its worst season to date since entering F1 in 2016, finishing bottom of the constructors' championship without scoring a single point.
But Haas knew the year would prove tough having decided early on to sacrifice its 2021 campaign in a bid to focus all of its efforts on next year's car to meet the new major regulation changes.
On Thursday, the team tweeted that the VF-22 had completed the crash tests all F1 teams are obligated to carry out – passing with flying colours.
Haas ran an all-rookie line-up this year after parting ways with the experienced duo of Romain Grosjean and Kevin Magnussen at the end of 2020.
Formula 2 champion Mick Schumacher and Nikita Mazepin proved a tricky pair to handle at times, with tensions between the two particularly high at the Dutch Grand Prix after a disagreement in qualifying.
While Haas remains hopeful of returning to its 2018 performance level – when it finished fifth in the standings – after abandoning the development of its 2021 car, team boss Gunther Steiner admits progress will still be hard to come by given the team is the smallest on the grid.
"I think we will be still the underdog, which is trying to punch above its weight, because our structure is exactly the same like it was in '18, '19," Steiner said, as quoted by Motorsport.com.
"We changed a little bit instead of using Dallara people now we've got our own people and some of the people from Ferrari, which were moved from there, because of the budget cap. But we are still the smallest team.
"I think people wise, production wise obviously we are by far the smallest, so I think we're still the team we were in 2018. And we want to get back to '16, '17, '18, '19, whatever you want to call it. We still want to be known to be that."
---