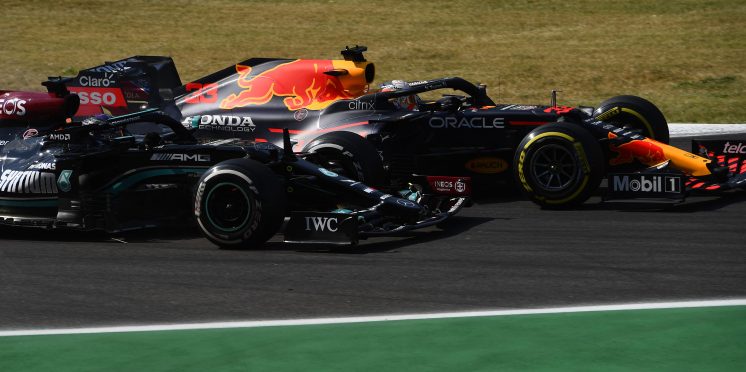 Masi: F1 racing rules 'made clear' to drivers after talks in Qatar
Formula 1 race director Michael Masi insists the championship's racing rules have been "made clear" to the drivers after a sit down to discuss the matter in Qatar.
Clarification over what is and is not acceptable in wheel-to-wheel combat was discussed at length following the controversy surrounding Max Verstappen and Lewis Hamilton's battle in Brazil.
The stewards decided that no further investigation was necessary into Verstappen's defensive driving when he pushed Hamilton wide at Turn 4, despite Mercedes requesting a right of review.
In light of the outcome, drivers discussed the topic in Friday's driver briefing, but many came away admitting they still were not sure how the rules would be applied in the future.
Hamilton admitted he was none the wiser to where the limit lies when defending a position, saying "most drivers were asking for clarity, but it wasn't very clear."
But Masi disagreed believing the constructive talks had made it evident how stewards would judge similar instances going forward.
"I think it's been made clear to them, what is expected," Masi said, as quoted by Motorsport.com. "I think the other parties, some of them agree, some of them disagree.
"And that's always with each and every one of them, they have agreed and disagreed all the way through.
"So we've given them some overall guidance, but also been very clear on the fact that each and every case will be judged on its merits."
While Verstappen escaped punishment for his move on Hamilton, Masi dismissed suggestions it proved the rules have been relaxed at recent events.
"I wouldn't call it more relaxed, it's looking at each and every incident on its merits," he said.
"As we have done with each and every one, there is a panel of independent stewards. Contrary to what many people think, I'm not the one sitting there as judge and jury.
"We have a look, we have a panel of stewards that review each and every incident. And then as we saw last weekend, they determine if it's worthy of an investigation, if they do, it gets investigated, and then determine if there's a breach or not a breach."
Asked if the FIA would have looked into Verstappen's move differently had there been a a gravel trap instead of a run-off, Masi replied: "Quite possibly, yes. But you need to look at the whole situation and scenario, weather, run-off, et cetera, et cetera."
---