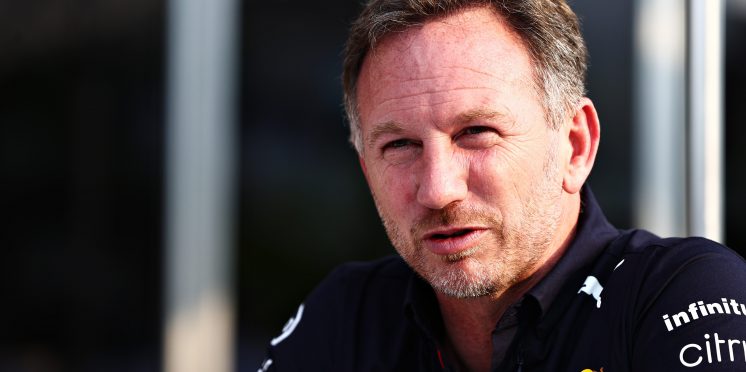 Horner has 'no issues' with conduct despite FIA warning for marshal comments
Red Bull boss Christian Horner insists he has "no issues" with his conduct despite receiving a warning from the FIA over his "rouge marshal" remarks at Formula 1's Qatar Grand Prix.
In an interview with Sky Sports F1 prior to lights out, Horner vented his frustration over Max Verstappen's grid penalty for a yellow flag infringement in qualifying.
Horner was critical of how the incident was handled by marshals and officials when Pierre Gasly ground to a halt on the pitstraight after sustaining a front-right  puncture.
He was called to see the stewards regarding his pre-race comments and given an official warning, over which the Red Bull chief apologised and assured his anger was directed at the circumstances of the incident.
"I made a comment to one of the broadcasters [Sky], I felt there had been a rogue marshal who had waved the yellow flag and the stewards took offense to that side." Horner said, as quoted by The Race.
"I just reassured them that no offense was intended with the individual, it was more frustration with the circumstance having three or four cars pass the same car with no yellow flags, [then Verstappen got a] double-waved yellow flag. It was an explanation of that.
"I think the apology was accepted. And I'd just like to make it clear, it wasn't pointed at marshals, I think marshals do a wonderful job around the world, they're volunteers.
"Without marshals there would be no motorsports so it's just the circumstances that were frustrating."
Horner's remarks came during a weekend where he once again called into question of the legality of rivals Mercedes' rear wing, threatening to lodge a protest in the remaining races.
Asked on reflection if he now regretted his behaviour in Qatar, Horner said: "No, not at all. I believe in my team, I'm a straight-talker. I've always conducted myself in that manner.
"The way I've conducted myself, I've got no issues with it, I'd do exactly the same.
"The only issue was regarding any marshal, if there was any personal offense taken for referencing a rogue yellow flag.
"It was not intended at any individual or marshal.
"I don't know whether you heard the interview I gave this morning, I didn't feel it was unreasonable."
Horner shrugged off suggestions the intensity of the title battle versus Mercedes was weighing on his shoulders, after Lewis Hamilton's victory saw him cut Verstappen's lead in the drivers' standings to eight points with two races remaining.
But Red Bull left Qatar closing to within five points of Mercedes in the constructors' championship, with Verstappen finishing second, as well as claiming a point for fastest lap, and Perez recovering to fourth after his Q2 elimination.
---