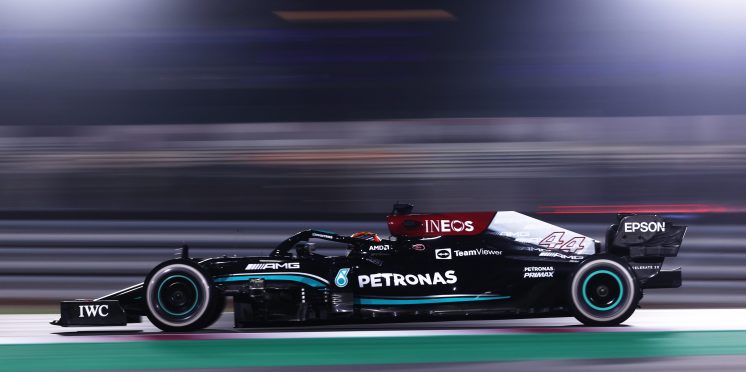 Mercedes to fit Hamilton's car with Brazil power unit for Saudi Arabia
Mercedes has revealed Lewis Hamilton will use his fresher Formula 1 engine from Brazil for the Saudi Arabia Grand Prix to aid his 2021 title bid.
Hamilton closed to within eight points of championship leader Max Verstappen with a dominant victory in Qatar, despite reverting back to his older-spec power unit.
The seven-time world champion took a five-place grid penalty at Interlagos after fitting a fifth ICE of the season, and will use the engine again for Saudi's high-speed layout.
As Hamilton's title aspirations gain momentum following back-to-back wins, Mercedes boss Toto Wolff said the team would get its "spicy equipment out" for the next encounter.
"In Saudi it should be a good track for us but we know this year, when we think it is a good one, it can turn the other way around," Wolff told Sky Sports F1.
"But it is long straights and we will get our spicy equipment out, the engine, for Saudi Arabia.
"Hopefully Valtteri [Bottas] can be right up there because we need him, but in any case if everybody finishes the race it is going to Abu Dhabi."
Mercedes trackside engineering director Andrew Shovlin is also buoyant about the team's chances for Saudi Arabia, particularly knowing Hamilton would run his fresher power unit.
"We've seen pretty big swings of performance over the recent races, [but] if we look at the track in Saudi, I think it should suit us," Shovlin said, as quoted by Motorsport.com.
"For Lewis, we have got the more powerful engine to go in the car, so that's going to give him a useful engine."
Shovlin explained the decision to not fit the more powerful engine in Qatar was down to the Losail track having fewer straights than Saudi's street circuit.
"There are two [power units] that we are racing," he said.
"Here we had the less powerful of the two in the car, due to the nature of the circuit. So that side of it is in a good place at the moment."
But while Mercedes goes to Saudi Arabia full of confidence, Shovlin stresses it cannot expect to come away with a result after its defeat to Red Bull at last month's US Grand Prix.
"The track should suit the car, but then we would have probably said in Austin that we would have felt that we should be able to put together a decent set-up and take the fight to Red Bull, and they had a bit of an edge there," Shovlin said.
"So we're always cautious to go to a race thinking that it's all going to go our way.
"What we do know though are the things we've got to get right on the set-up, what we need to get right on the tyres and how they're working, and that's what we're going to be busy doing over the next few days, making sure we're taking every possible opportunity to arrive there in good shape.
"With a new circuit, arriving in good shape is such a big thing from the learning curve, if you've got a good car to start with, you can just improve it from there."
---