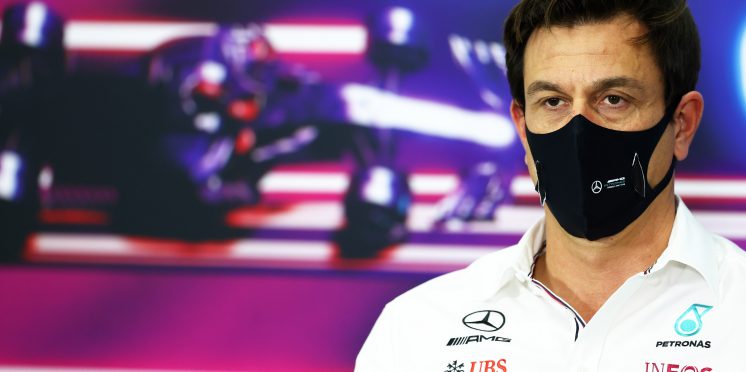 Wolff: Verstappen call could lead to 'dirtier driving'
Toto Wolff believes the FIA's decision regarding Max Verstappen's move during the Sao Paulo Grand Prix could lead to "dirtier driving" from Formula 1 drivers.
Verstappen's aggressive defence during his battle with Lewis Hamilton for the lead in Brazil resulted in Mercedes requesting a right to review over the incident.
The stewards had decided to not investigate Verstappen's tactics in pushing Hamilton wide at Turn 4, and announced on Friday it had rejected Mercedes' plea for the matter to be looked at more closely.
The lack of clarification from the FIA over clear guidelines for leaving racing room when wheel-to-wheel has left F1 drivers seeking answers.
And with the situation at risk of being unsolved ahead of an intense title battle between Mercedes and Red Bull, Wolff is concerned it could set a bad precedent going forward.
"I think it's a very surprising outcome, because irrelevant of how Brazil has been judged, I think that is water under the bridge," Mercedes boss Wolff told Sky Sports F1.
"In my opinion, what it says is you can just launch yourself into a corner and drag the other car out of line. And that obviously can lead to quite some dirtier driving going forward.
"We don't want to have a messy situation tomorrow, in Saudi Arabia and Abu Dhabi, because that would be really bad."
Wolff believes drivers are just as much in the dark about driving standards given the lack of clarity the FIA gave in Friday's driver briefing.
"I think all the drivers that spoke up said that it was a decision that was also surprising to them," Wolff said.
"Obviously you need to adapt your driving style to the new situation, but it's still surprising for everybody that's in the car and for us too."
---