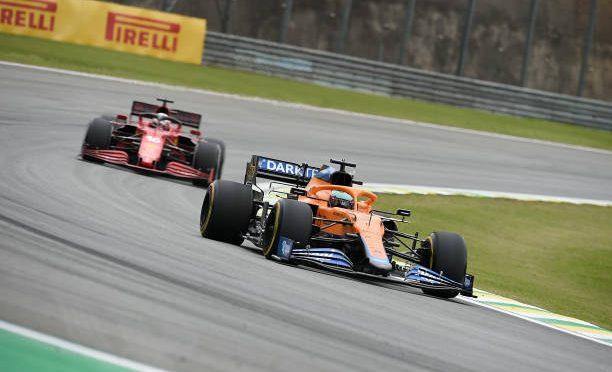 McLaren accept it must 'face the reality' in Ferrari F1 fight
McLaren admits it has to "face the reality" that it could lose out on third place in the constructors' championship to Formula 1 rivals Ferrari.
The Woking-based outfit has been in a season-long duel with Ferrari for P3 in the standings, but recent results has seen it slip further behind.
Following its 1-2 finish at Monza and double points finish in Russia, McLaren led Ferrari by 17.5 points. However, Ferrari's upturn in form has seen it surge ahead in the past four races, moving to over 30 points clear with three races remaining.
Acknowledging McLaren's difficult run of results, team principal Andreas Seidl felt it now had to be "realistic" over what it could achieve this season.
"It is clear that on certain tracks our car is a lot stronger," Seidl said, as quoted by Motorsport.com.
"But what we didn't manage now in recent weeks is simply to score the points that were on the table for us. And that's obviously disappointing. But at the same time, there's reasons why.
"So we simply need to truly get back now to the last three races and try to do better.
"Today was the second hit now in a row after Mexico to our battle in the constructors' championship, so I think we need to be realistic now what is possible to achieve this year.
"At the same time independent of the battle in the constructors' championship, it's simply important now in the last few races that we get back to the positive momentum and that we score simply the points that are on the table for us."
While Seidl now accepts beating Ferrari to third place will be far from easy, he doesn't believe his team is out of contention just yet.
"Clearly, we have to face the reality," Seidl said. "If everything goes well for Ferrari now, at the end of season, it'll be difficult.
"But at the same time, as long as it's theoretically possible, and I've seen several times this year and last year what can happen on a race weekend, we will try to hang in there.
"More important is simply now to get back to simply scoring the results that are on the table for us.
"Because I think also in the last two race weekends, where we didn't have let's say the strongest car in this in this battle we were in, it was still possible to score good results.
"This is what we didn't manage, and that's what we need to do better."
Although McLaren could finish one place lower in the championship than last year, Seidl believes positive steps have been taken by the team since 2020.
"Of course, we're all focused on this P3/P4 battle at the moment," Seidl added.
"But as I always said, we have a realistic view of where we are with the team right now.
"And the most important thing is again, that we clearly made a next big step forward as a team this year, in terms of the car.
"We look at the average point scoring this year, it went up quite a bit. The lap time deficit compared to Red Bull and Mercedes was again, quite a bit smaller compared to last year."
---